Izeta is a Spanish company dedicated to the lighting sector, manufacturing standing, suspended, wall and table tops.
The lamps are manufactured with a special nervous fabric in its weft on acetate supports. It requires a relationship of intensity and careful order in its finish and finish. In his designs, geometric shapes predominate, alternating black and white with vibrant colors.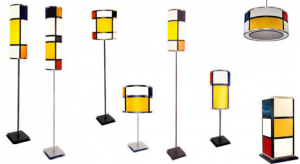 An example of this is the Mondrian collection, inspired by the designs of the famous Piet Mondrian, and moving its shapes and colors to the design of the lamps. They also work with fabrics such as cotton, satin, silk or satin to create harmonious designs.
More information: Izeta