The end of the dictatorship of "straight lines", now that everyone learned this expression, it is time to change our vocabulary.
For the most attentive in the designs of the industry dedicated to the furniture making, you can realize that these furniture are undergoing changes in a very fast way.
The curved lines are present more than ever as a well-marked trend among the most prestigious furniture brands.
And what is the reason for this change and orientation of the design towards the curved lines.
In fact it is because the straight lines in the furniture are typical of a decorative trend which is appreciated by the furniture industry thanks to the simplicity of the design and low cost.
But the evolution of the accessories and the opening of the design towards new colors and shapes manages to impose itself as the ideal option when it comes to aesthetics and comfort.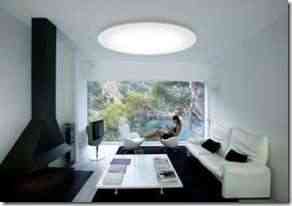 Rounded shapes
Already in recent years, some brands try to enhance straight lines, with fine finishes such as lacquering, high gloss or the use of exotic woods for their composition.
This is like the one who gives the last breath of life to a trend that should inevitably be reversed in a short time.
Thus, the dominance of right angles now leaves room for more ergonomic, more organic and seductive forms.
All this is summed up in a more sexy furniture design, inducing the interior decoration by more voluptuous, cozy and much more informal ways.
Curve Lines
The tendency for curves extends vigorously throughout furniture, sofas and even lighting fixtures.
Conceptualized designers like Ross Lovegrove or Ron Arad, known for the omnipresence of rounded shapes in their creations, finds in this trend an open horizon for their creativity.
The change of decade brings us a tendency towards the renewal of spaces, the familiarization of being with the whole, and the harmonious conjunction of forms with the beings that inhabit it.
The rounded shapes break the patterns, providing style, comfort and an air of sensuality that floats in the environment, attracting us to the design in an almost mystical way.
As if these lines were implicit in our mind beforehand and subconsciously we are attracted to their forms.
Sensuality and comfort in curved lines will be the words that define interior design in the coming years.