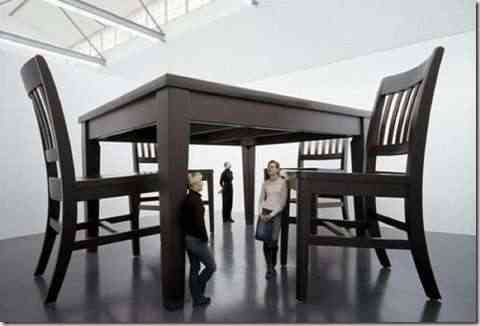 In India there is interior decoration there are several trends that bet to achieve a differential in the spaces where they are applied, something very sought after especially by first class hotels that offer the possibility to the client to move to a completely different sensory universe in each room.
El play with proportions or forms of furniture, far from thinking directly in the comfort of them create a remarkable impact carrier of an incredible range of benefits that generates a transcendent impact on the visitor or who enters for the first time.
La Trend affects in the first place to all pieces of furniture used to make salons, it is so Gamplusfratesi presented a novel line of chairs that transcend the classic concept of proportion of the same, the collection is called Anthropomorphic Chairs and in honor of its name does not respect classic standards but does not skimp on comfort.
spine is another collection created by the designer Steneby which attempts to transgress the rustic conception and the well-defined lines of the furnishings arranged on the sides of our bed or as stand out in a room, its dimensions are respectable and its lines very sensual and suggestive although it escapes the pre-established standard of this type of furniture.
Moreover other creators only bet on the dimensions, made furniture with very traditional lines but dimensions totally out of context, what the artist achieves is a tremendous impact and many of these pieces are even part of artistic samples away from the implementation for the daily use of such furniture, which speaks clearly of the importance in the creativity of the creator.
As we argued at the beginning this kind of Decoration is ideal for commercial spaces, where your clients will undoubtedly notice the abrupt change of the spaces they travel daily with the incredible magic that they contribute the habientes for the rest, the wait or recreation that it proposes to him, turning its decoration into a differential annex to the service.