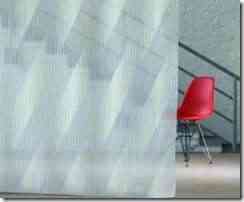 With 200 years of history in the manufacture of fabrics and rugs, the Scandinavian brand Kinnasand continues to give surprises to the market.
In its new collection, light colors and simple and elegant modern forms are once again appreciated by their creators.
The transparencies and lightness dictate the mote of the fabrics applied in the curtains. By far, this transparency that has been the image of the Scandinavian design brand is once again the high point of this collection.
Regarding the carpets, the geometry of the designs and the sobriety of the colors trace the guiding line of the new collection. The brand alia the quality of craftsmanship to the modernity of design.
In some models of Kinnasand carpets, made with the best wool from New Zealand, the client has the possibility to choose their favorite color.
Comfort and quality are guarantees of the Kinnasand design, which introduces in the role of its creations, for the new year, comfortable puffs covered with fabric of the brand.
Appreciate the Kinnasand solutions, having the guarantee that your choice is the right one:
One of the proofs of success of the Kinnasand brand is the amount of awards it has obtained over the years. One of the last was the award "Interior Innovation", attributed in the category "Materials Innovation" awarded to his beautiful collection of ZENIT rugs.
Also, the brand received the "ICFF Editores Award" in New York, an award attributed by a jury, constituted by a jury of international renown among which were editors of international design and decoration magazines.
She also earned three "Red Dot Design Awards" for her collection Metallic Textiles "
Source: www.quartosala.com