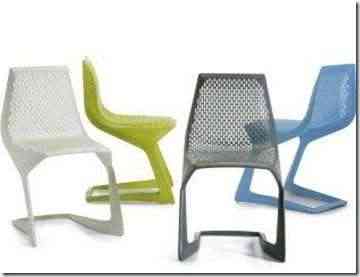 The German designer, author of countless internationally awarded creations, once again surprised the industry with the creation of "Myto"
The chair is built in a type of plastic reinforced with fiberglass, completely innovative and totally recyclable, developed by BASF.
They were by far the characteristics of the material itself, its resistance and flexibility that motivated the invitation made by BASF to the designer and inspired Konstantin Grcic to design a chair that takes full advantage of the advance of technology without forgetting environmental concerns increasingly present in the priorities of the brands, such as Plank, who accepted the challenge of producing this model.
"BASF Ultradur High Speed"
The plastic "BASF Ultradur High Speed" is a flame retardant material and requires a low energy consumption in its transformation, contributing to the much talked about decrease of Co2 emissions.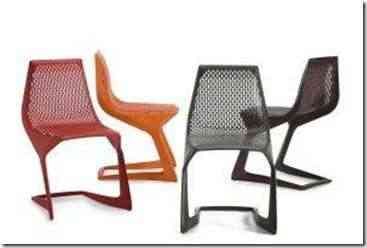 This was the starting point for the conception of a mono-block piece, which is entirely molded in this type of material and whose design resembles a network.
"Myto" is a cantilever chair, that is, the weight of its structure is based on a single point, given the great stability and comfort for the user who can fit it into an interior decoration project, or, thanks to the material of great resistance with which it is made, insert it in an external environment that will be marked by the incortorneable design of this piece.
This chair was presented for the first time at 2007, at the world's largest fair for the plastics industry, the K 2007 in Germany. In May, 2008 was selected to be permanently exhibited at the Museum of Modern Art, in New Cork (MoMa) and at the Die Neue Sammlung, Munich Art Museum.
It is a clearly won bet for the producer, the Italian brand Plank, which has made a great effort in recent years to produce furniture and accessories that are distinguished by originality and quality.
International Awards
The success of this creation of Konstantin Grci meets the vast curriculum of the designer, founder of Konstantin Grcic Industrial Design (KGID) at 1991 and awarded with countless international awards.
One of these awards was the attribution of the Compass of Gold attributed in 2001 for the conception of the Mayday candlestick for Flos.
Originally designed as a work tool that can easily be transported to a garage or hang in a garden, thanks to the 5 meters and the on / off system incorporated in the candlestick's own body.