Without a doubt we have heard many times talk about a sensual decoration, but what is this trend that is capable of creating unique spaces, Differential brand of owner's originality.
Although many people do not take care of it this way, the house is an extension of oneself, therefore, the colors and combinations applied must reflect a clear concept of personality and style.
The trend does not necessarily need a particular type of furniture or specific colors, but rather the combination, that's where we find the secret of sexy decoration.
Some people tend to relate this type of decoration with the cutting-edge pieces, although it is where it shines the most, it does not necessarily have to be that way, and you can find classical spaces provided with an incredible sensuality.
Just as a beautiful woman can seduce us with her integral gaze and achieve with her print and her walk generate that feeling of intrigue and strange magnetic attraction, spaces can achieve the same effect.
The secret lies in the combination, and that is where the shapes manage to make a difference, the lines of the furniture are fundamental, try that they respect a coherence, rounded or straight must be respected in all the pieces.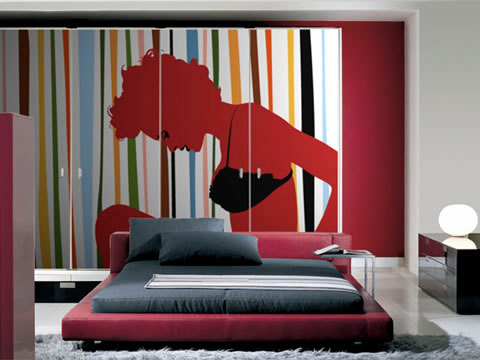 The colors create the atmosphere, if you decide on a classic and conservative decoration No doubt he will be limited in the color combination, but if the vanguard it is his style will have an enormously wide palette, where the interaction of color and furniture is the secret of conquest at first sight.
You can choose motives on vinyl or digital art, to confine a particular highlight to the space, look for these highlights to act on the furniture highlighting the most relevant pieces.
Textures is also something fundamental in the sexy decoration, soft lines delicately maintained, rugs and thrusts of quality, pleasant to the touch, soft and colorful.
Finally, the luminaire shapes its sexy decoration, although the light in the day must be carefully studied in its interference on the space, it is time to use the luminaires where the game that gives light and shadow creates the climate for a space that becomes a true magnet.
Remember that a type of furniture is not necessary to confine a sexy decoration, but this must be a true image of his personality.