One of the most important secrets that we can appreciate in interior decoration for small spaces is in the ideas and application of the different pieces of furniture that greatly outperform the rest of their peers thanks to the remarkable capacity of adaptation and expected functionality.
But if you have a reduced budget to decorate your floor, will first need to evaluate what the pieces of furniture that must necessarily be part of your decoration and how they can adapt themselves to their lifestyle in a way that not only solve space problems but embellish the place.
For this Clei is a company that is very clear about the functionality of the furniture, and above all the needs of modern life, making ideal functional furniture to optimize spaces and with an outstanding youthful touch, creating pieces that decorate by themselves and have a great capacity for adaptation.
The lounge tables present another remarkable retro, and is that we must not only have the space they occupy but with the rest of the accessories that have their conformation, such as our chairs, for this there is a range of possibilities in the market in functional tables, that not only optimize spaces but they are capable of transforming themselves into shelves or other pieces of ornamental character contributing their beauty to the space even when they are not functioning as such.
The designer Paradny Kalomidi has revolutionized the concept of bookcase or bookcase, turning this piece of design into a true corner of reading and space optimization, Is a bookstore that has inside a nice resting chair, the piece is called Recamier Reading Corner and causes a furore in young decoration of functional character.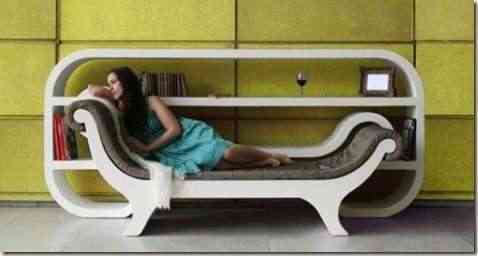 Finally, framed in the characteristics of Optimization of spaces for our living room, we can say that in the market we will find a lot of tables for living room, small character and low stature that have a huge potential in its functional character becoming not only practical breakfast but in the incredible lounge tables we need to receive our guests and commemorate celebrations, those who seek solutions of this kind should consider the relationship price quality, and function, finding on many occasions lounge tables, breakfast and ornamental highlight for a single price.