One of the most characteristic raw materials of this constant industrial revolution in which we live is undoubtedly the development of plastic polymers, these are present in virtually all the elements that are created, from airplanes to our food packaging, and the decoration could not be alien to this characteristic so the new materials propose furniture completely different to what we know or classically conceived.
Focusing on this characteristic we present a compendium of solutions created from plastic polymers, finding as a remarkable and characteristic differential its transparency, which allows the light propagates more efficiently, generates the perspective of making more use of the spaces while its aesthetic finish is achieved framed in a large number of trends.
Santambrogio Milano is a creative that proposes furniture framed in this practice, although far from the plexiglass or acrylic which far from imitating some pieces that were developed during the decade of the 70, uses glass "ultra clear " for its collection, it highlights the line of sofas and beds, widely modern characterized by their highly marked straight lines and the ability of the material to be modified depending on the angle in the light affects the piece.
Another outstanding collection is The Invisibles Light created by the Japanese Tokujin Yoshioka a remarkable creative of furniture that developed a whole collection where he suppresses the lines making them play with the perspective and as the name indicates, they go completely unnoticed where the ornament seems to float and the chairs develop in an almost magical context.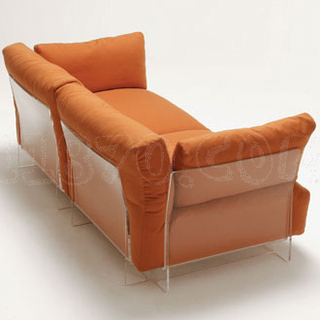 Pop sofa de Piero Lissoni proposes a typical sofa with its traditional characteristics even in the tones selected for its preparation, however the structure of it is characterized by its development in transparent polymers with an elegant morphological proposal.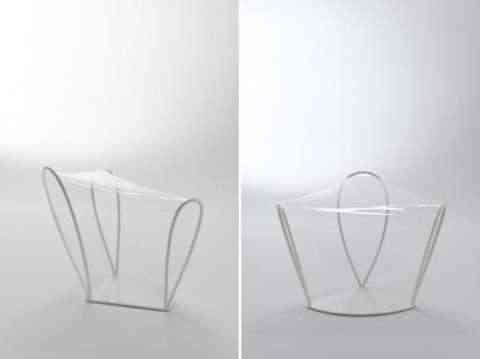 Nendo is a Japanese company which distant from the creations of Piero Lissoni he not only proposes transparencies but extremely atypical morphologies, presenting his creations in spaces of high avant-garde, in the antipodes of all traditional creation, we presents chairs, armchairs and sofas in conjunction with tables and completely innovative beds.