The KALEIDOSCOPIO HOUSE in an environment, creative and interactive game, for children between 6 years and 115 years. It is a scale model of a Modern Style home, with walls of transparent colors that slide, appearing, disappearing and overlapping each other.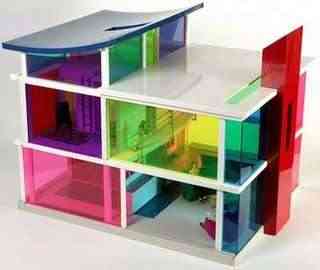 The design of the house was conceived by the artist Laurie Simmons and the architect Peter Wheelwright. Simmons, is recognized for her work on dollhouses and her photographic work. Wheelwright, is dean of the Department of Architecture of Parsons School of Design, in New York. The house and its spaces are also decorated and composed, with furniture designed by the most renowned contemporary artists such as Dakota Jackson, Karim Rashid, Ron Arad, and Keizer / Newman. The paintings of the decoration, the photographs, the sculptures and the figures of the family, were created by Peter Halley, Carroll Dunham, Laurie Simmons, Cindy Sherman and Mel Kendrick. Today the house would give your child a great session of creativity and you a beautiful historical piece of contemporary design and architecture.
BOZART TOOYS is a company established to offer visual art, with an important component of creative design, and artistic and fun toys for children. Visit the website of this toy store at www.bozart.com/.