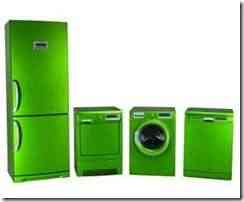 If the current design seeks to dress our house in a wide range of colors, why not do the same with our kitchen.
If we define the time that we grant to our stay in each place of the house, we will find that our kitchen has a preponderant place, within this scope the common denominator in character of the implements that occupy it is the target, but because we do not opt ​​for appliances that far from mimicking the environment and passing entirely unnoticed are part of a decorative project.
For this, the market gives us some solutions.
One of the companies that exploits this trend is Electro lux with its "Color Passion" line. The brand has focused on this style for more than a year and we will be able to find washing machines, refrigerators, kitchens and even lava dishes in colors that are atypical for home appliances.
The range available has Orange, Green, Yellow and Lilacs
The company intends to expand its horizons by entering into interior decoration and strictly respecting the essential characteristics of ecological care, all these appliances belonging to low consumption lines.
Author's design
The need to personalize the decoration, led many artists to pour their ideas and trends in household appliances, so the realization of the Mexican designer Gina Gonzalez is a clear example, which seeks the perfect harmony between a basic element of consumption and the colors of nature achieving an artifact that generates desire for admiration.
Under the same product line the Italian Smeg, I achieve incredible results working with designers dedicated to this trend that achieved a line of washing machines and refrigerators that can be the piece that is missing in the kitchen of our kitchen.
But not only this type of appliances are dressed in bright colors that manage to adapt to our decoration or be the center of it, radios have also been revolutionized a clear example is the work of the designer Tivoli that presents us with its very colorful models.