The refinement of the design, the precision of the cut and the delicacy in the form, thus summarizes the application of laser technology in interior design.
As a kind of scalpel, in a surgical act, the laser, applied to furniture, lighting or textiles, came to the design industry and made a revolution.
It opened an admirable new world of design and extended the invitation to a universe of creators eager to give life to new forms.
Laser technology applied to the cutting of industrial materials such as wood, steel, glass, felt or rubber, brings into our homes, chairs, curtains, rugs, tables, candlesticks and all other objects of decoration with organic forms and appellatives, rich in details, which until now were reserved for those skilled hands with great experience in carving manual works.
This is why the "hand made" of other times is being increasingly replaced by the "laser cut", ensuring good taste and increasing the precision of the pieces.
It is the perfect aesthetic, sought in every creation that wins and much with this technological advance. On the side of here, of the creative process, the consumers of contemporary design are surprised every day with the evolution of a design that walks for the purification perfectly elaborated.
Everything is cut to the millimeter, almost like a wooden table or a felt mat, everything is transformed into a jewel or a personalized adornment, given the precision with which the drawing is superimposed on the material.
And of this, the testimony of the Danish brand is an example Grandor that counts all the expectations of well-known local artisans specialized in the manual work of wood, who succeeded in drawing and cutting with laser and water jet the top of an MDF table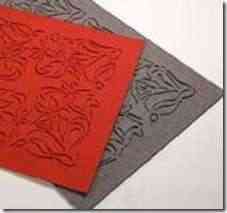 The same laser technology was used by the same brand to cut small balls on a mat made of neoprene rubber and felt.
If the computer replaces the human hand to make possible the detail in the design, it is also the resource that makes this type of pieces more accessible for a growing number of consumers who get rid of the orders of manual work, sometimes inaccessible by the prices and by the shortage of specialized labor.