The egg cartons have already served us other times to make beautiful ornaments such as lamps, very simple to make. On this occasion we use the same material but with greater complexity. The result? what we see in the image, but to get here you have to follow a few steps.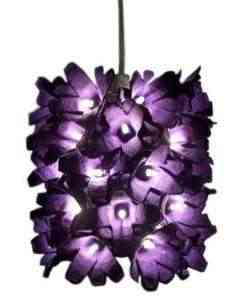 Materials:
- Cartons of eggs (several)
- Scissors
- Painting
- Glue
- Metal mesh
- Tweezers
- Fine wire
- Christmas lamps
Preparation:
To make the flowers we cut the egg carton by the part that is down, and then we make four cuts in each part creating petals, as if it were a flower. We paint them the color we prefer (in the example is purple) and let dry.
Once this is done, we place them two by two, joining them with a little glue. For this reason you must make double the flowers of the lights you have.
Once this is done, we cut out a rectangle of wire mesh and form a cylinder with it. We hold both sides by tying them with pieces of wire. Now we must introduce the Christmas lights through the slots of the mesh. In each lamp we will put a flower that we have made and which we have previously made a hole.
It is very important to distribute the lights well so that no gap is left where the mesh is visible and we have a tight, well-made lamp.
Via: The Crafts