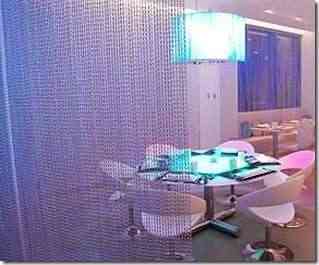 The "open spaces" were affirmed in our daily life. We are talking about public or private spaces, the truth is that this way of organizing space gives us greater freedom and flexibility of movement.
As it is easy to understand, the absence of walls or static dividers facilitates communication and helps create the illusion that we are in front of an area larger than that actually available.
But within that broad space, we often need divisions of environment that help us create spaces within space and build a certain order in the disorder, however barely apparent.
The options of dividing environments are quite diverse. Sliding panels installed in enclaves that are placed on the wall, or on the ceiling, are some possible solutions, such as curtains made of light fabrics and preferably transparent, or perhaps made from new materials such as anodised aluminum, from which they are made, example, the metallic curtains of Kriska Decor.
The lightness, resistance and versatility of this type of aluminum coverings are the characteristics explored in these curtains that constitute an innovative solution of partitions of interior and exterior environments.
They are made to measure curtains, which means that they can be more or less wavy, depending on the units of the metal links that we want to place them on.
These links are available in different 28 tones. The versatility allows precisely that, depending on the color, you can see almost all the designs you can imagine.
These metallic curtains have been widely used in commercial spaces such as bars, restaurants or hotels, as we will have noticed in many places with a minimally trained eye to detect innovative details in decoration.
If it is not a division of environments what you are looking to include in your project of interior decoration and if a piece that makes the difference and a special touch to your space, these curtains can also be that decorative element you are looking for.
This is because it has all the potential to create an intimate and personalized atmosphere.
Regarding the installation, despite being relatively simple, any doubt, do not hesitate to consult our decoration experts who will gladly support you.
The advantages of anodised aluminum:
Material 100% recyclable;
Extremely light
Resistant to rust and climatic aggressions;
Anti-fire;
Great versatility and flexibility;