If we did not see the taps installed on this surface, would someone say that this is a sink? Although it may not seem like that, it is.
It is so sophisticated that you can hardly see the shape of the sink, or even the drain. Instead, there appear a thin slits that take advantage of the lines of the design and that are only seen if we get close enough to it. It is a design Will MacCormac to WMD and is called FOLLO (funny name)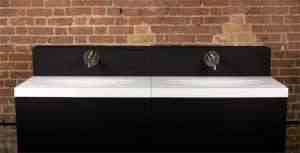 It's perfect for elegant hotels, exclusive clubs and other establishments, but I do not think it's useful in a home. It is available in several models and sizes for easy adaptation to all types of spaces.
More information: Will MacCormac
Vía: Yanko Design