Pop stomps. The colorful nostalgia of yesteryear comes with force and plans to stay to revive the Pop-style artistic expression. The cheerful and colorful is in fashion and more and more people are getting into the car of this fashion in every way.
Aesthetics is very important in the Pop style, perhaps the most important, an aesthetic that transports us to a world of color, a world full of life and carefreeness.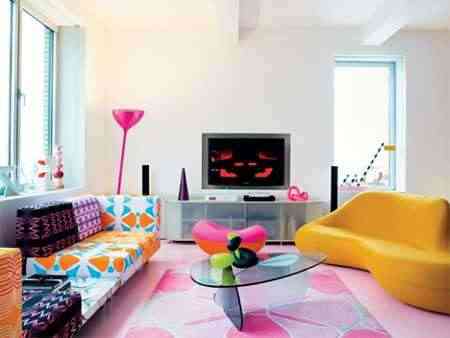 In this type of decoration the pads in pink, lilac, red tones ... have great prominence, the curtains with rhinestones help a lot to get the style, the carpets and the glass are also great allies of the Pop, all this making use of strong colors and Vibrant perfectly combined with prints from the 60 years.
Give free rein to your imagination and if you do not have enough budget that allows you to make a purchase of all the furniture you need, do not decay, mix current furniture with accessories that evoke the 6 and 70 years is a more usual alternative than you can It seems, in addition, it is very funny.
Pop Art can be referred to as an artistic trend characterized by the use of images of popular culture taken from the media, such as: advertising, comic, cinema, television, etc.
If you want to give a "touch" Pop to the decoration of your house, use posters of movies or reproductions of works of Andy Warhol or Roy Lichtenstein, images of comic characters, etc. they are a simple, economic and safe bet that will bring that Pop "air" that you are looking for and will also give you a casual and youthful appearance.
Circles, triangles, squares, rectangles ... the geometric forms in general are the motifs most present in the Pop style, both in furniture upholstery and in textile prints, wallpaper, etc.
The colors most indicated for this type of decoration are reds, fuchsias, oranges, greens ... Colors that are usually combined with the aim of looking in a certain way for psychedelia, but without reaching exaggeration.
The furniture of light wood, little or very little varnished and pure lines are a perfect element for this type of decoration.