In this modern age the cult of the body and the importance of health and relaxing activities take on greater relevance day by day, hence the need to have functional spaces optimal for this task.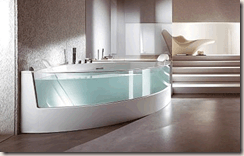 The bathroom is one of the most evolved and changing environments of human civilization. The new conceptions transport users to magical worlds where relaxation and anti-stress therapies take center stage, leaving aside their basic function.
In this way we can affirm that the classical conception of this room in our house has been modified and evolving with the needs that society imposes on them.
Although the disposition to conceive them in limited spaces existed during the 20th century, this tendency becomes obsolete, resurfacing the characteristics of a bathroom of considerable dimensions implemented during a large part of the story.
But of the lavish baths that in spite of their luxury did not transcend their functionality, we pass to these spaces where they become true spas in our house.
The evolution of various and incredible materials confers the new furnishings with functionality and particular luxury, the baths have become true temples of the corporal health whereas on the other hand the spaces destined to the massage and alternative therapies are everywhere in this new idea that conjugates the luxury with the comfort and the benefits of simple way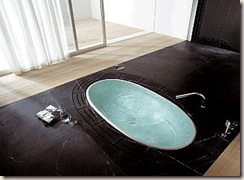 The straight lines contrasts of colors and the soft and delicate shapes manage to highlight the sensuality that is tried to transmit with glamor and delicacy.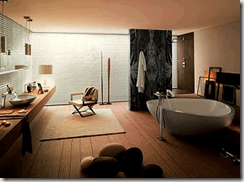 More harmonic spaces, materials that due to new treatments become optimal for their implementation in these spaces, resurface, more cozy less cold and more personal, the bathrooms of the next decade will become one of the most desired and aesthetically adapted spaces of our house.