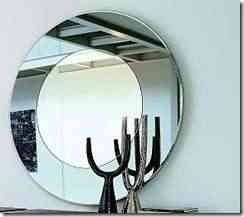 Mirrors on the wall, rotating mirrors in the room and mirrors that cover furniture such as dressers or dining tables.
This season we will see our most unspeakable best friend of all narcissistic spirit enter the scene.
The mirrors return to make their foray into the world of interior decoration, as it did not happen many years ago. Comes to complement the trend of chrome that reminiscent of the 60 years ended up imposing its brightness to the contemporary furniture of recent years.
Just as we got used to seeing furniture with chromed structures instead of stainless steel, the mirror emerges as an inseparable brother that needs other gleaming materials to have its own existence.
But it is not the only reason. The mirror was always a material considered "imposing" by others. With effect, it was enough to insert a mirror in a decoration project so that an environment would automatically become different, luxurious and wider.
Now with the trend of chrome is also high-gloss lacquered wood, the mirrors come to have a less imposing existence within the whole, diluting its "glamor" in the overall envelope brightness.
Shining brightness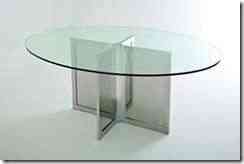 At a time when the crisis seems to be settling in, this tendency of shining brightness and multiple reflexes seems to be the right antidote against generalized depression.
Born passionate about the treatment of glass in all its aspects, we highlight the work of Pierangelo Gallotti. In his tireless and persistent research he managed to print the Gallotti & Radice brand the true status of luxury craftsmen, in what is presented as a collection of pieces in which the mirror is the basic theme.
To perceive the intrinsic value of the mirror as a material of excellence and to transmit the true timeless value of its creations has been a gamble won and expressed in the pieces that it launched in Milan at the furniture fair
If for the interior decorators the mirrors were until now a material to be used with some parsimony, we will now be living a true state of grace if this tendency is maintained.