If we talk about Revolutions in decoration Without a doubt bathroom of our house is one of the places that more revolutions has suffered.
But moving away a little from the general concept we find that inside our bath all the accessories have been modified, from the bathtubs until the mirrors although without a doubt the sinks they are the most representative and faithful reflections of the changes that have taken place.
First of all, we should highlight the evolution of materials and manufacturing techniques what drives the sinks to its new conception, the appearance of plastic alloys easily manipulated and highly resistant, I leave aside some enormously expensive pieces.
The forms and their functionalities although you do not believe it have also been modified, today in the avant-garde bathrooms we can see how the sinks they are not characterized by their habitual morphology but they try to transgress it becoming pieces of a high decorative level.
On the other hand its functionality has also been modified, and is more than anything due to the resource crisis that the planet is experiencing where water and its controlled use is really important, once thought how much water it spends when flushing the toilet, well the company Rock yes he did and I think these beautiful futuristic models of toilets that by means of a containment system store the water that you use to wash your hands and then use it in the toilet, a Ecological output and extremely profitable if we observe the savings that it gives us.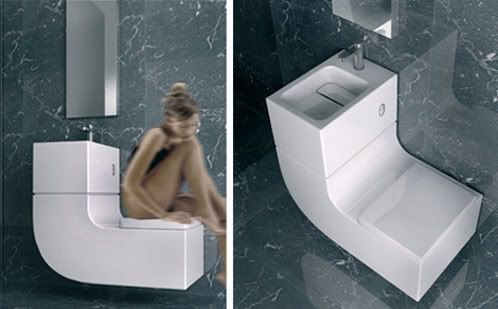 About us Eumar It has taken very seriously this morphological change in the making of the piece and has developed sinks that do not respect in the least their traditional form, the line is called Abisko Washbasin , and we can find it in a wide range of colors.
But not only the forms or the functionality, the materials present us with a range of unique opportunities, that is how we observe how the transparent sinks gain ground, interacting with pieces of stainless steel or aluminum conferring a true futuristic image of your bathroom
If you are thinking of renovate your bathroom or is focused on making a cutting edge design, I should observe what the read in character of toilets, singularly beautiful and an attraction for its visitors, sinks as we argued at the beginning, they are the faithful sample of the changes that have taken place in the technological and social revolution, and although they change their form or functionality, this is the best place to wash our hands.