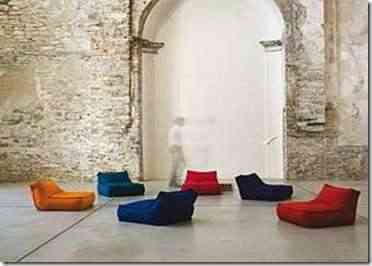 It is said that a person is nomadic when he does not have a fixed place to live, or permanent residence where he can be found.
With the values ​​that govern current societies, especially with the evolution of the labor market, increasingly globalized, how many of us have not already changed, or will we change in a more or less near future, the security of a home, for the need to move from one place to another?
It is in this nomadic spirit that somehow it is being experienced by a new generation of young workers, mostly high-ranking multinationals, who are being relocated in their jobs, at a pace that accompanies market demands.

These are the nomads of modern times, who live according to a somewhat alternative style, are tired of living in hotels with impersonal decoration and devoid of soul, seeking to feel at home in every place where they pass. With this objective, they personalize the space with pieces that, do not fail to guarantee the desired comfort, establishing a strong informal style.
That's why they choose pieces with generous and descontracturadas forms, such as chairs that allow them to sit but also reclose, large sofas with even larger pillows, which accommodate good moments of decontraction and relaxation.
The examples of this cozy informality can go further and reflect the experiences associated with a somewhat "underground" universe. This is the case of the interior furniture collection of the clothing brand Diesel, which, associated with Moroso, giant of the best Italian furniture, was inspired by the rock music universe and designed a sideboard that resembles the "flightcases" of the musicians.
And what better piece can fit into this nomadic philosophy, than the puff?
This accessory offers us a time of rest and comfort without barriers, being able to be transported from one place to another without a minimum problem.
Let yourself be seduced by the collections and brands that edit without shame in hurting a more conservative line, collections that translate this concept of informal, comfortable, practical and easy to transport, associated with a growing mobility characteristic of modern societies.