We have not talked to you for a long time The Pattex, sure some of you have missed them but it is because of what we have seen in your blog have made a break in their bricotherapy for couples and they have gone on to do a pretty fun experiment.
After showing us how the renovations of his house were going, they have gone on to manage a exchange of objects with his followers who have wanted to make the change. The mechanics of the game were very simple: they proposed an object of theirs to exchange, of various kinds (shirts, nails, home accessories, tiles, etc ...) and the readers had to respond with their proposals to exchange.
Once all the proposals were received, the Pattex, a pair composed of Dani and Eva, made a selection of the ones they liked the most and communicated it to the candidates. Do not go to think that the exchange has been of articles of Channel and pieces of Karim Rashid far from it, has remained in something simpler but no less important: a pair of screws for a crystal ball with a black cat inside, a lamp for an alarm clock, a cushion "cinephile" for a ceramic reindeer to hang, a yellow shirt for a multi-colored t-shirt or a tile for a hair. I love this couple!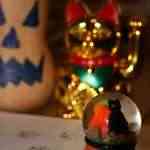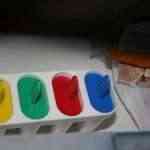 Once the exchange is done, the latest news that we have in your notebook is the result of the new location of each object. Bedroom, living room or garden, each object has found its new space in the house of Los Pattex. It seems that this is taking shape. I have a desire to see the final result ...
We can see everything in The Pattex Bloc.