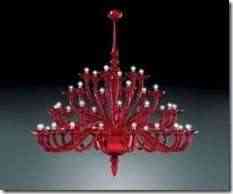 They were the glamor of times of luxury and splendor, the center of attention for their lavish appearance and refined taste.
Made by renowned master craftsmen, who created their pieces as true works of art, Venetian chandeliers are associated with the art of working in Murano glass.
They are part of those works that nobody knows because they manage to go through the times, reformulating themselves according to the dictates of the fashions and styles of the decoration.
But the chandeliers had a potential enemy that I try to dethrone them in the XX century, is that the nature of the constructions of reduced spaces reduced the possibilities of the use of these pieces and in many occasions attentive against their splendor.
But nothing could dethrone it, the chandeliers are kept in smaller sizes of lesser magnificence but with their particular beauty decorating our rooms, large or small, no one can resist the singular beauty that they are able to radiate.
New colors and materials
Despite being resisted by some designers, the aesthetic development of today's chandeliers is based particularly on its new shapes and colors that decontaminate it from a piece of lavish luxury to frame it in an avant-garde accessory with which designers usually play and to try new forms and tendencies focused on modern and novel decoration.
In the case of Jaime Hayon who designed the candelabrum Josephine Queen completely black-formed the design was built for the company Metalarte which appreciated the skill of the artist to form a piece that simulates a glorious past but is focused on a modern and purifying transgression
Artesanal job.
The work of the designer O'Hare & D'Jafer it manages to fit into the use of surprising materials.
Your work with the candelabrum Dolphin, completely made of leather in a glass room, clearly shows the highlight of a totally handmade piece.
Is that without doubt this type of pieces has an added value in our decoration, attaching to it the artisanal condition where the artist expresses with his own hands the essential characteristics of a trend that every day achieves greater validity