We know that you love plants and implement these in your decor ... so today we will talk about something that you will surely love. If you are looking for something different to decorate that corner, for your garden or children's room today we discover a curious proposal.
Using the typical base pots we can make beautiful dolls to decorate the stairs, the terrace or the windows of our bedroom. The ones we can see in the image are two pots arranged forming the head and the little body of the decorative doll.
Make this type of item is not as expensive as it seems, we will only need the use of two pots, which can be large or small we want. In addition we will need some cord, sandpaper, scraps of felt, acrylic paints, brushes, pencils and some templates to decorate the pots.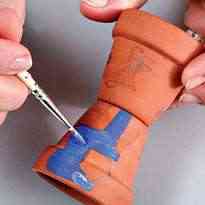 To prepare the pots and paint them we have to sand the surface of both. Keep in mind that if we have chosen plastic pots this step is not necessary ... To form head and trunk we will join both pots by the base with a little silicone.
With acrylics we will help ourselves to make the face of the doll and the body that we will paint on the pot. You can paint a dress, a shirt, a cowboy jumpsuit or whatever you think is convenient.
The arms and legs of the dolls are made with cord. In this way it suffices to stick two pieces for the arms and another two for the legs. The length will depend on the dimensions of the pot and our taste.
With a couple of pieces of felt we will make the pants or the skirt or part of the dress. Inside these remnants of fabric we will introduce the cords so that they form the complete legs. These pieces of cloth stick part in the interior of the pot itself.
Finally we will plant - with the same method that we always use - the seeds of what we like the most, in this way with time it will grow and it will form the hair of the doll. We can also transplant some flowers that we have different pots. In this image we see that the seeds used are barley.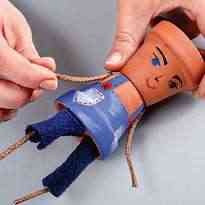 These curious little dolls can become the protagonists of the decoration of our garden, behind were those gnomes of the forest hehe