What a great change occurs in our lives when the reality of having a new member in the home is about to happen. All our world becomes an incessant celebration and we do not wait for the little ones to arrive to build an ideal space, where they are comfortable and safe. The wooden cradle, the soft toys, the hypoallergenic carpets, the mobiles, the stroller and the cleaning set, begin to be everyday concerns and until we have resolved them, in the best way, we do not rest. We want everything perfect for our baby; beautiful, durable and economical. But have we thought that it is also ecological?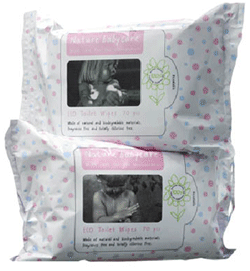 In the case of the cleaning set it is good to replace the typical cleaning towels, which are used daily and represent a large amount of non-biodegradable waste, by NATURA DISPOSABLE TOWELS, which are made with natural pulp, are free of chlorine and artificial perfumes. They are also biodegradable and can be used to clean newborns so that your children use them for themselves when they have started going to the bathroom alone.
On the website of CRIANZA NATURAL www.crianzanatural.com you can find wipes and many other organic products for your baby.