Today I am going to talk about the collection Maiaia de The Mediterranean, but before I put in background:
The Mediterranean is a signature of accessories and accessories for the home. It is not just any signature or another signature for several reasons:
It is not a manufacturer, but an artisanal work.
They do not work any material, they only work glass.
No glass works, the glass used by La Mediterránea in the production of its pieces is 100% recycled.
His designs are not any design, to acquire a piece of La Mediterránea is to take home a piece of the Mediterranean.
Now, let's go to the collection Maiaia.
Maiaia is a table collection composed of dishes, trays, bowls, vessels y pitcher.
Each and every one of the pieces are made with glass 100% recycled extraclear tinted.
Su design It is the result of inspiration born from the memory of childhood. That childhood in which mothers and grandmothers wove our woolen garments with care and care.
The texturesrepresent the different types of tricot stitch: rights, reverse, ribbons, braids ...
The colors that predominate are vibrant and luminous colors: orange, green, white, blue ...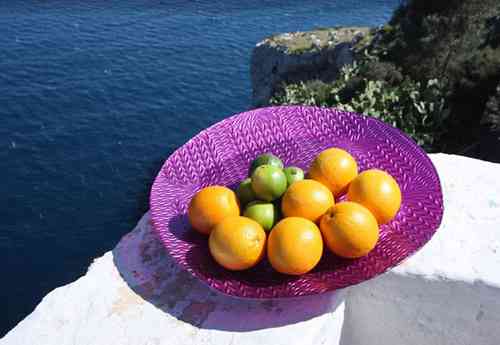 A collection inspired by the Mediterranean that has impregnated the essence of yesterday and that allows to create really surprising combinations on the table, but always with Mediterranean airs.
Different, original, charming, cheerful, with personality ... The truth is that all the qualifiers that could offer this positive collection. Personally, I fell in love.
And do you like the Maiaia collection? Did you know La Mediterránea?