With this that the holidays are approaching, I usually get anxious to do different things. I do not usually be the best hostess, mostly because I have rarely proposed it. Being the least of the house and living away from my family, I have always acted as a guest at family parties and a spoiled child, of course. However, I have always had the illusion of exercising some day as Official Mother at Christmas dinner. In fact I have a long table for six, extendable for eight, tablecloths embroidered by my mother-in-law and a very cute tableware, a wedding gift, which I have decided to use every day to see if it wears out and I get another one. It is also true that I like to change. Returning to the theme of this time and that is not the crisis, family dinners are approaching and one would hope to receive as God send your guests.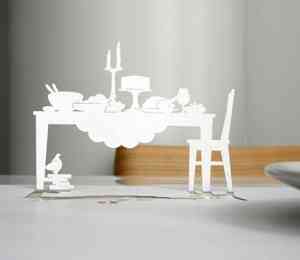 So I've set to work. Obejtivo, put the table in conditions. I thought how about a napkin made with these hands? ... hummm, maybe, a new crockery? This is a crisis, I've already said, another Christmas tablecloth? Signs to indicate your site to each of the guests? No, I wanted something different. It was then that I considered the search in another sense, and that not everything in this era has to have a Christmas theme.
In this way I found these beautiful stamped individual placemats. They are made of more or less thick and resistant gramage paper, and, due to the variety of their motives, they are ideal for different types of dinners or meals, Valentine's Day, birthdays, inauguration of new floors, weddings, baby births, and, Of course, Christmas, although there are also for a casual night (to me is that the tablecloth of l a Vespa has stolen my heart). They are inspired by classic children's books with reliefs, and in fact the silhouettes have a charming vintage air. They are available in white, black, broken white, kraft and, just as I was looking for them at this time, in red.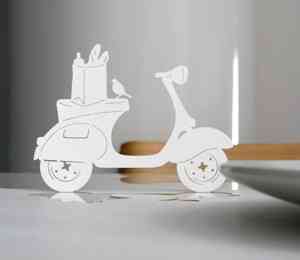 More information http://www.publiqueliving.com/r_popmat.html