Now with the summer we can spend more time with our children. Propose fun activities will be very entertaining and also decorate our corners in a very original way.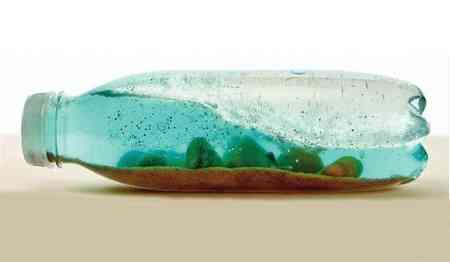 In this craft we will help with natural materials such as beach sand, seashells ... take advantage when you go to the beach! Then we take a plastic bottle and you'll see how the we transform into a small ocean.
The materials what we will need are:
- a half-liter plastic bottle
- 10 sea shells
- 1 / 4 sand cup
- green and blue food coloring
- silver glitter
- Water
- baby oil
- hot glue gun

To begin we introduce the sand into the bottle, we must also put the sea shells that we have collected. Now we mix a drop of blue dye and a drop of green dye in water. The proportion of water will be about 6 cups. Mix it in a container and now fill the plastic bottle with half the mixture.
The next step is to add a bit of glitter, inside the bottle and add oil - do not completely fill the bottle. To finish, put the cap and add a little glue on the lid. This way the liquid will not escape.
As you see a small and decorative ocean in just a few steps.