Just like a few days ago we approached you some tips to decorate with wrapping paper, this time we use decorative papers or fabrics to create our crafts, some simple paintings that will decorate the chosen corner.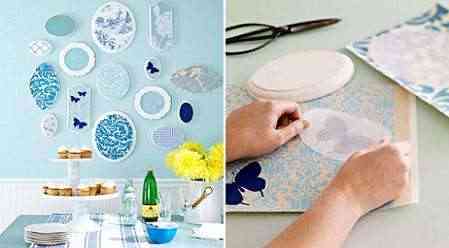 Materials:
- White paint
- decorative papers or patterned fabrics
- glue for paper and fabric
- picture, tables and wooden frames
- hooks for hanging pictures
- Brushes
- scissors
Process:
First we must get the frames or pictures that we will use to decorate. They can be of different sizes and shapes, even if there is much better contrast.
We paint the pieces white. If you want to give special protection, apply one or two coats of varnish. Once dry, we apply on them the cuts of fabrics or patterned papers. The thanks is to combine colors in different patterns, but ensuring that the mixture is not too strident.
We will use a glue for fabric and another for paper depending on the materials that we treat. Finally we apply the hooks on the back of the frames to hang them on the wall.
We place the pieces on the chosen wall forming a design like the one seen in the image. Here blue has been chosen, but the choice of color and patterns is yours.
Vía: Home Space