Sometimes, changing the look of a lamp is easier than it seems, as well as having a patisserie lace on hand. The only additional expense will be the purchase of spray paint of a certain color, and you can even save it if you have one at home. We will see how with these two materials we can change a lamp almost completely.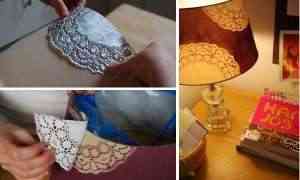 Materials:
- Blonda for pastry
- spray paint (free choice of color)
- zeal (to hold the lace)
Process:
We must choose the screen that we are going to "maquette" and depending on its color we choose the tone of the painting that we are going to apply. In the example, the screen is beige and a color similar to eggplant has been chosen.
Once we know what we need, we take the patisserie cake and cut it in half. We paste the zeal back to adhere to the screen and there is no undesired mark on the drawing. With the zeal prepared stick the bonda to the screen of the lamp, carefully, sticking on the edges and even letting some paper protrude.
Depending on the surface we can include two blondas or three. The inner part of the lamp and the barillas we can cover them with paper or with some adhesive like insulating tape to avoid that they stain with the spray. When they are placed we can proceed to paint with the spray, preferably in a large room and taking care not to stain anything. Let a few minutes dry and we can remove the lace.
We already have our lamp as new.
In the following link you can see the images step by step: Makegrowgather
Via: Craftzine