This felt craft adds a degree of difficulty in its development, because although it is not complicated if we must have a certain handling of the sewing machine.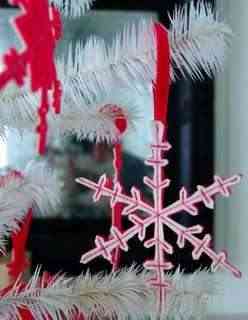 The materials what we are going to need are:
- pieces of felt of two colors (red and white), to be able to take two circles of each one of them.
- piece of felt cut in a flattened shape or a small narrow red ribbon, as we prefer.
- scissors
- pencil
- Red thread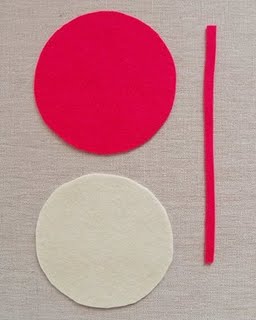 Process:
The first thing we have to do is arrange the scissors, the pencil, the needle and the thread. We cut two circles and a strip that will serve to hang the ornament (if you have chosen the loop, you only have to cut the measure, about 6 or 7 cm, approximately).
We overlap the two circles, so that on one side we are white and on the other red, and we machine sew three stripes that cross the circle from one end to the other, so that we have a drawing of the star. Guiding us through these lines we draw the lines that we see in the image, we make the same drawing that will simulate a snowflake. Always drawing on the white side of the felt.
Once the stripes are stitched, we sew over them with red thread and finish off on all sides so that no loose thread is left. Once finished sewing we only have one task: cut.
We will have to cut by the edges of the mark that we have made with threads so that when we finish the result it will be a snowflake, as we see in the photo, that we can hang on our tree.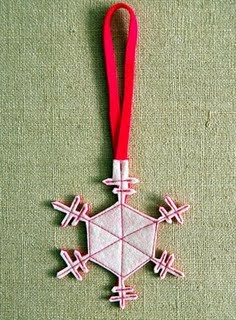 We can make it a little bigger and hang it in other places in the house.
Vía: things, things and cosotas