The flower of Easter can not be missing in any house at Christmas, but the problem of natural flowers is that if you buy it soon to decorate your house and you do not take good care of it, it can wither. But there's no problem because we're going to teach you how to make a Poinsettia with Felt so that it does not shrivel up and, more than that, you stand for so many years!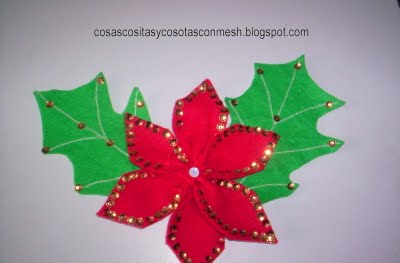 Materials:
green felt
red felt
sequins,
needle
thread
scissors
Process:
First we cut 3 rectangles of the size that we choose and cut the picas of each one of them by removing a triangle, as we see in the images of the gallery.
Then we sew through the center of the rectangle, creasing the fabric a bit so that the center is narrower and the sides are wider. Now we join each piece of the rectangles that will be the leaves of the poinsettia flowers and sew the sequins (it is almost preferable to sew the sequins to each piece before joining them).
We go to the leaves and pick up the green felt, we cut it out as a leaf and we sew the ribs of the leaves. We can also do it with golden acrylic paints. Once everything is done we only have to sew the leaves to the flower and we will have our Felt Easter Flower.
So you can continue buying your natural flower year after year, but with the guarantee of having another perennial and also made by yourself.
Vía: Things, little things and costas with mesh