The felt is one of the fabrics that can be handled best when making crafts and if we choose the white and red we will get an excellent Christmas crafts.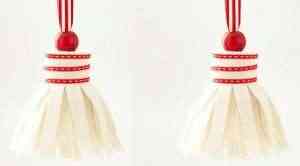 Materials:
- Felt
- decorative ribbons
- scissors
- thread and needle
Process:
We cut a rectangle of felt and we make vertical cuts with a separation of 1 cm and cut a smaller rectangle to decorate it with colored ribbons. We leave the small rectangle separated for now and take the big one, we wind it and fix the ends with son and needle, so that it is well pressed and does not escape.
Now we sew the small rectangle on top of the piece. Carefully introduce a decorating ribbon between the folds of the roll we have made so that there is a loop from which we can hang our ornament. To finish we introduce a ball as in the image and it is ready.
Via: The crafts