One of the techniques in the field of renovation of furniture and wooden objects that triumphs most is to achieve an aged effect. There are several ways to get it, but today I will explain a very peculiar one. The one that uses spray paint and wax for furniture. Are you curious? Well, keep reading and you'll see.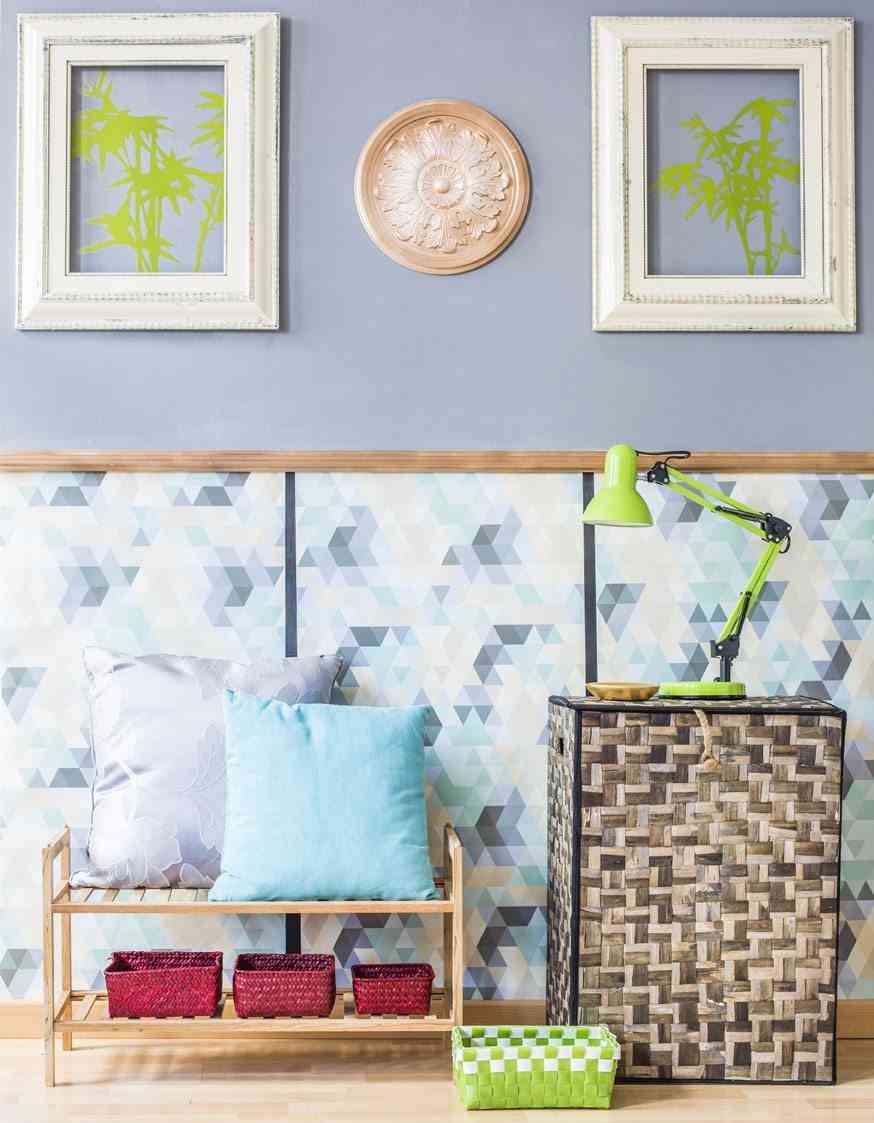 Surely you have at home more than one piece of furniture that seems totally boring and outdated. Do not throw it away for several reasons: to begin with, you need it. Furniture can not always be changed at will, just like that. Second, it makes you sad. The furniture in question is like new ... It's just your appearance that you do not like anymore.
And who says a piece of furniture, says any wooden object, like those horrible ones outdated air frames hanging from the living room wall.
Well, if you see yourself portrayed in this situation (it has all happened to us all), today I bring you a step-by-step tutorial with which you can give a twist to the decoration of your environments renovating furniture and wooden objects in a very simple way. Look how easy!
The aged effect: a finish that does not lose validity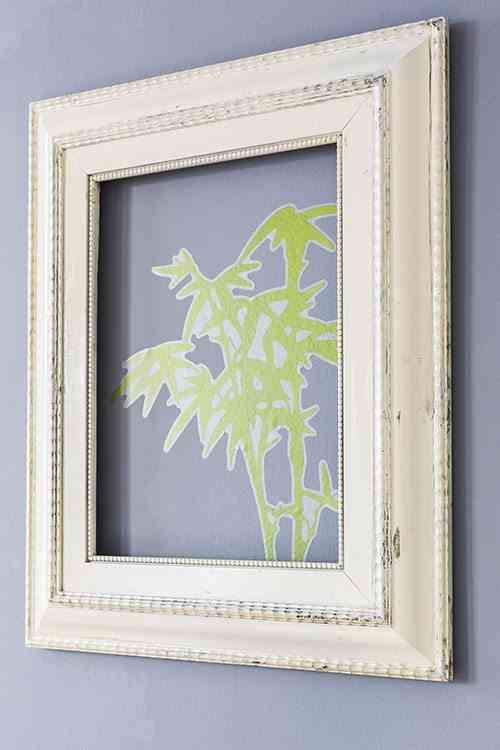 It is not the same old as aged, just as it is not the same old-fashioned as vintage. It's that simple And taking this statement into account as a starting point, you will realize that, if you could, you would give him a good change to several objects that you have at home.
In RecyCrafts they think the same thing and have decided to do it with old people wood frames. The result has been great: some frames with aged effect in shades of ivory.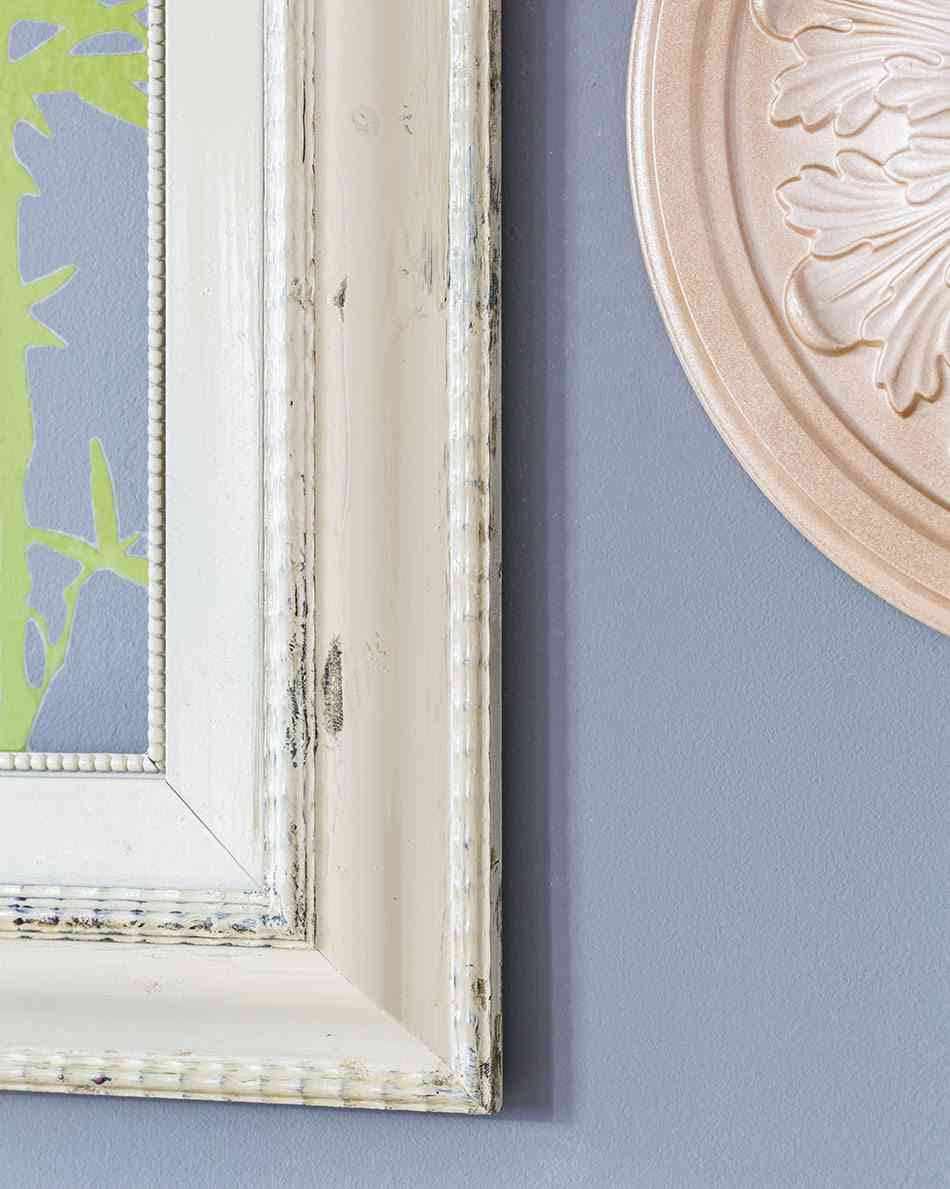 The most surprising thing has been, without a doubt, the technique used to achieve it, since it has been used spray paint, something quite strange, since it is usual to use paint to apply with a brush. And is that spray paints current ones have nothing to do with those of before. Now the sprays use new technologies that allow a more precise and cleaner application, and that helps to avoid the gouges and churretes of the sprays of yesteryear.
If you decide to use this type of painting in your restoration work or recycling of furniture and objects, you will get very decorative effects, although you will also have to take certain precautions that I will tell you later.
The work, step by step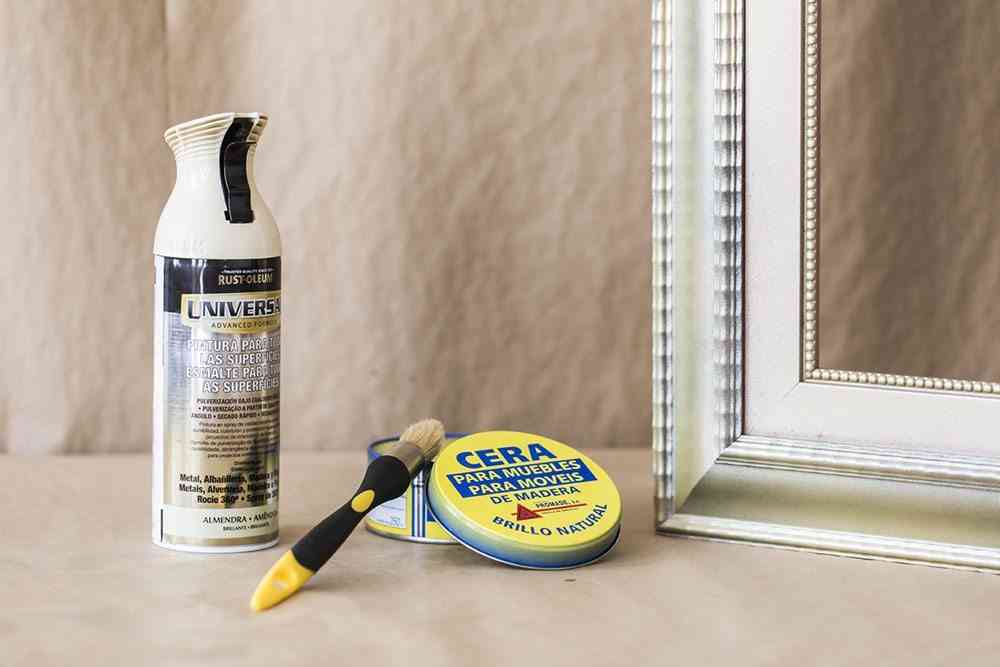 Do you want to give a different and much more current air to those ugly wooden frames you have at home? Well now you can do it with four things. You will need gold metallic paint, an ivory spray paint bottle (in this case you have used the Rust Oleum paint in Bright Almond color that you can find in Leroy Merlin), colorless wax for furniture, alcohol to burn, paper of kitchen, a couple of narrow brushes and a cotton cloth that does not loose lint.
The first thing you have to do is clean the frames thoroughly. To do this, rub them thoroughly with a rag soaked in alcohol to burn. You will be ready and prepared for your change of look.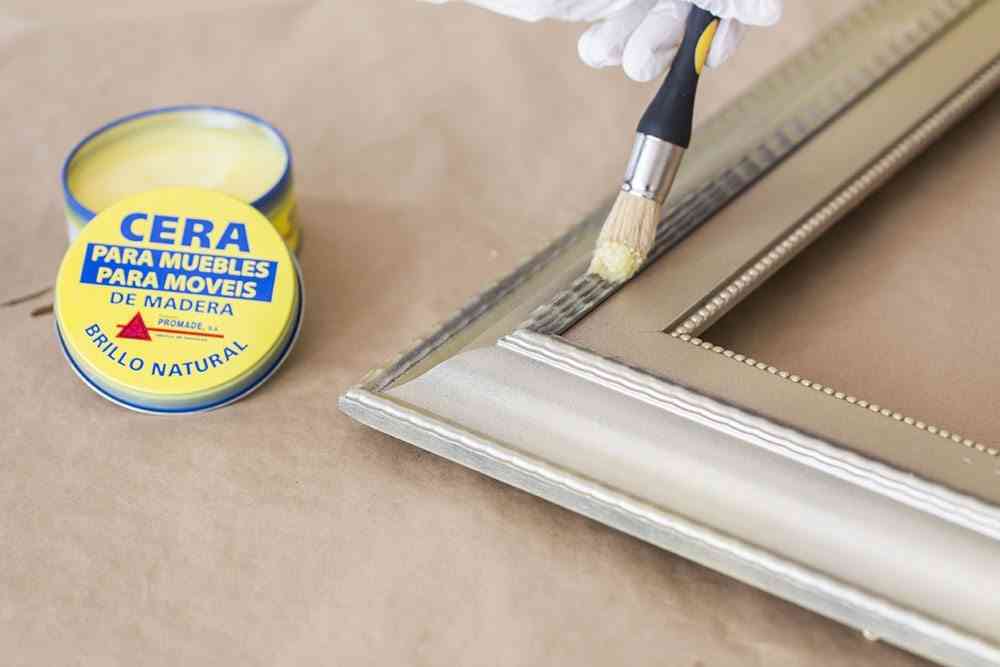 Step 1. Paint the entire frame with the Gold-colored metallic paint and let it dry for at least 24 hours. Then apply wax with the help of the brush in those areas you want to age.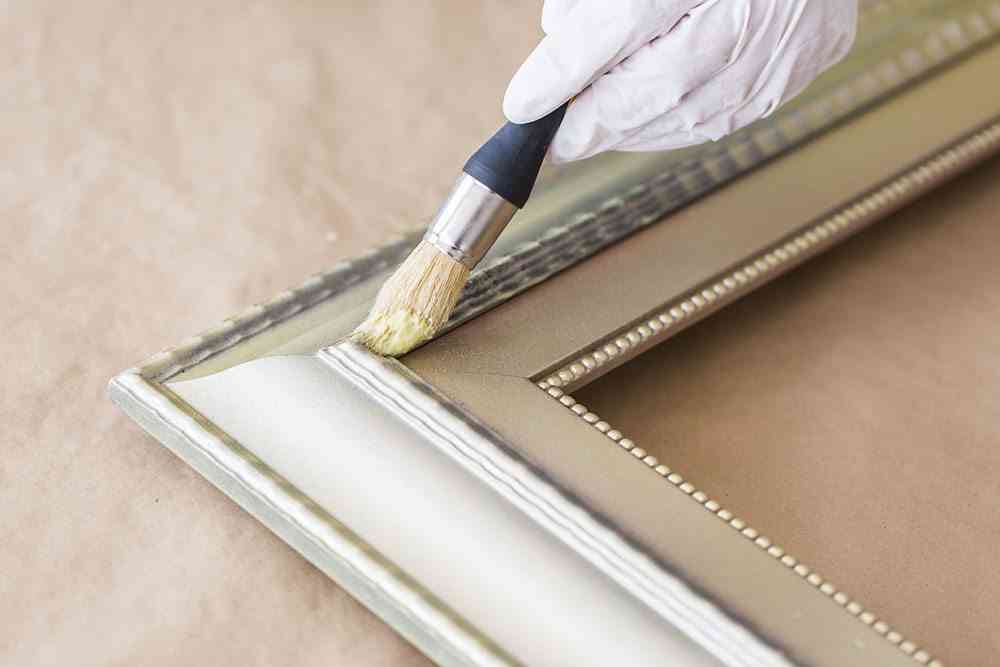 Step 2. In this case wax for furniture has been applied in the moldings of the edge and the center of the frame. You have to be very careful not to leave the area you want to grow old. If it has happened to you, clean the wax with a rag that does not release hair. If you do not clean it well, the result will not be as expected.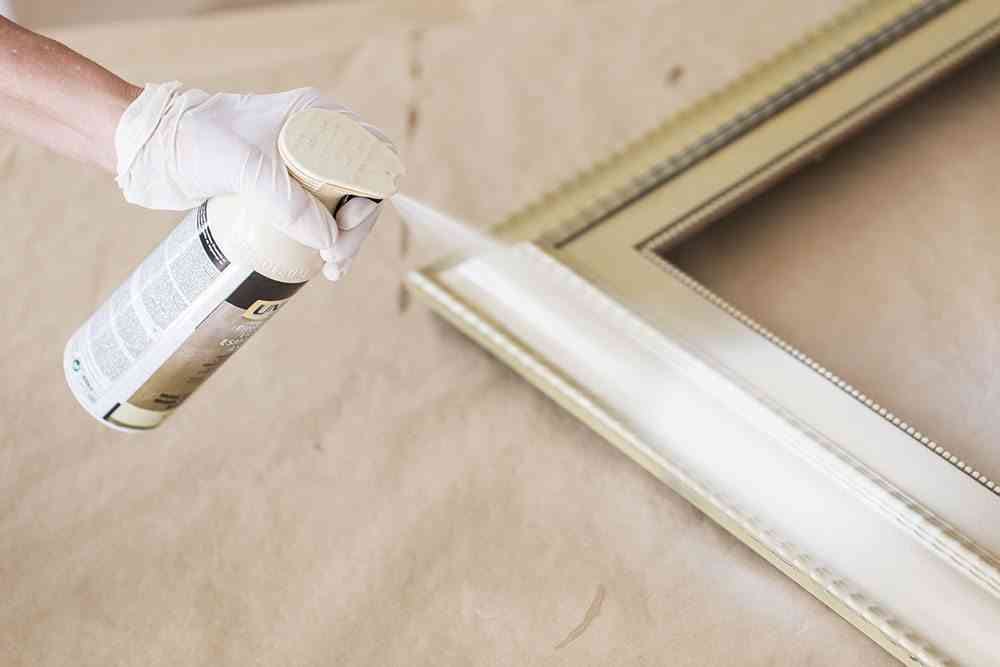 Step 3. The time has come for use spray paint. Before doing it the best thing is that you protect the work area with a plastic or with resistant paper, since the aerosol cans release a powder that sticks everywhere. Therefore, the more tapes, the less you have to clean later.
Spray the wooden frame with the spray paint from a distance of approximately 25 or 30 cm. Try to do it with quick passes, so as not to cause drops that spoil the result. To achieve a lacquered effect you must apply three layers, allowing to dry between each one of them.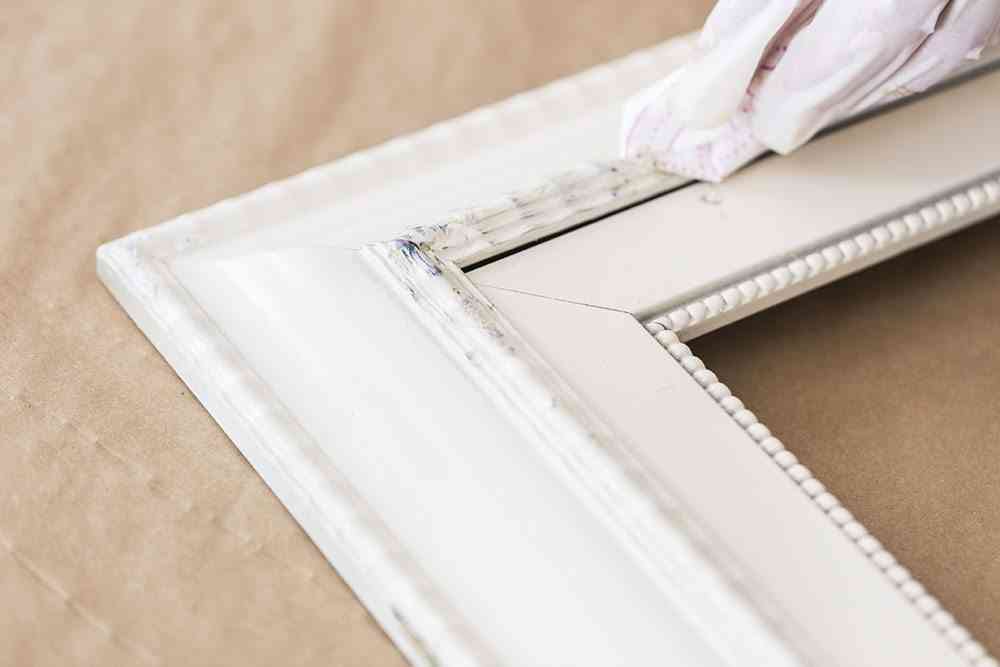 Step 4. When the paint has dried completely, see a piece of kitchen paper passing through the areas where you applied wax, that is, the moldings. In these areas, the Bright Almond color paint will not be fixed, thanks to the layer of wax you gave earlier. One pass of the paper will suffice for remove the paint.
What do you think of the result? Different and much more stylish, right? Well you know a great way to give an aged look to some pieces that have become outdated.