In decoration we all have a fetish material. That we do not tire of looking and use without limits. But what happens when there is more than one favorite among the elect. As natural and industrial: an ideal mix. Mixing is one of the great tricks to enrich any interior home. What is your secret?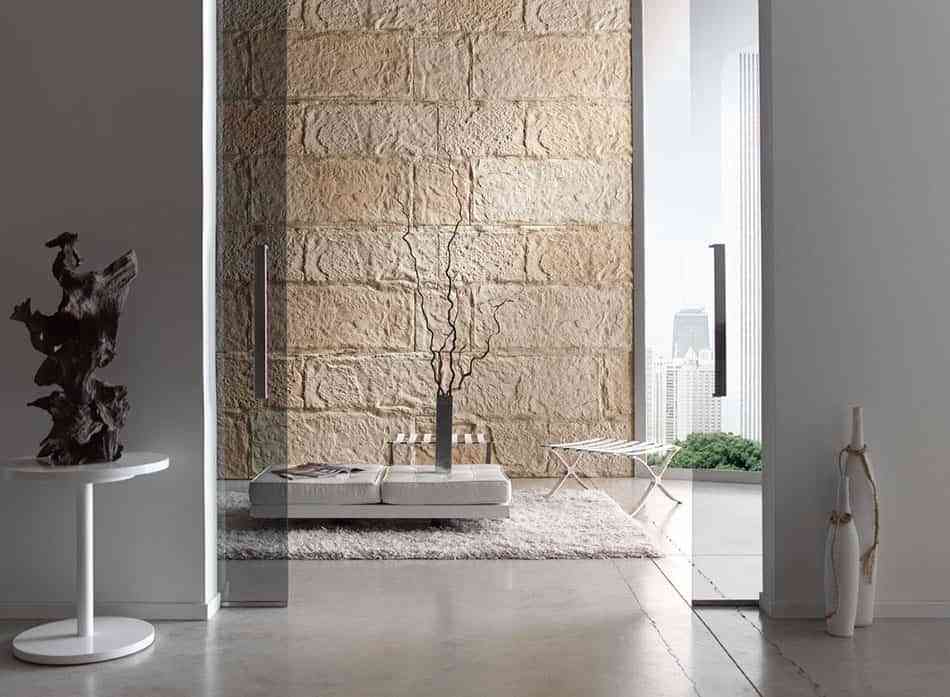 There are decorative materials that seem to have been born to be combined, perfect pairings. It's what I call the ideal Mix. The formula that will allow us not to renounce any. This is the case with called natural and industrial. Some will give you great doses of authenticity and warmth. And the others a greater functionality and a bathroom of undeniable modernity. Let's see how to get the best out of them, in total harmony.
Find your ideal Mix
Creating this ideal decorative mix means the following. That on the one hand, we are unconditional of the woods, the stone, the brick, and even sand and lime. And on the other we love materials like microcemento, the aluminum and the porcelain coverings. All have a place in domestic environments if they are dosed and distributed evenly. If a well-designed script is drawn, where the aesthetic set of the rooms is valued.
In an ideal mix not only the materials that we have decided to pair to dress our rooms. Even though they are the undisputed protagonists, surely will that coexist with other elements They were already there and they play an important role. There is no reason to give them up. From the colors that they send in the rooms, to textiles and upholstery chosen at the time to dress the windows, sofas and lounge chairs, etc.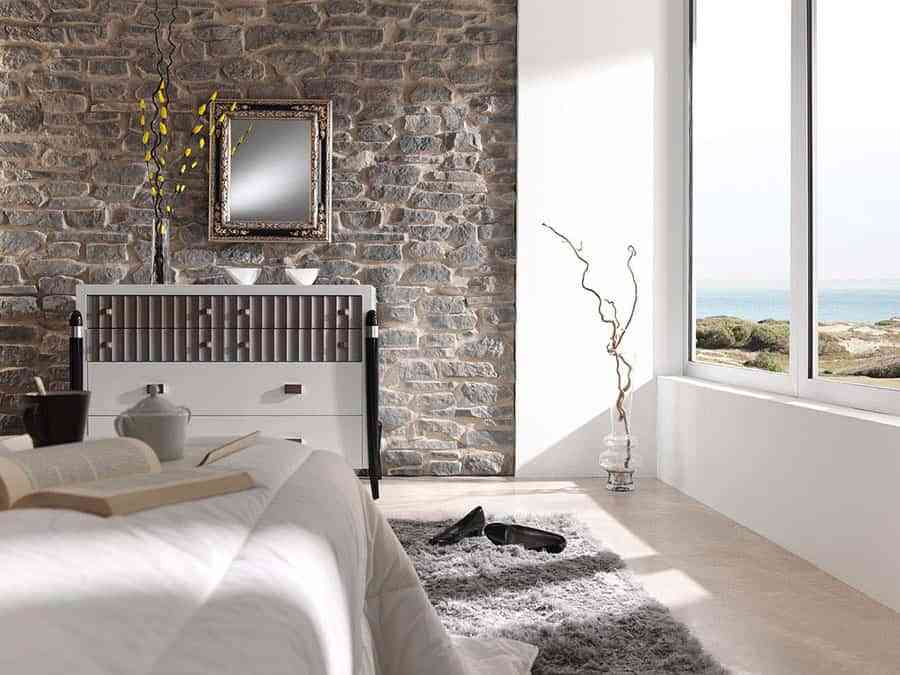 The first will be imagine how it is our ideal Mix. Close your eyes and visualize that combination in a certain space. For example, the house kitchen, wide, bright and high ceilings. The important moment will come to move that idea to the real scenario. That's when we'll see if it works or not, what should be corrected, etc. One of the rules that we should not skip is prevent materials from prevailing over others. And for this, nothing like defining the place or surface where to place it. This way we will create a balanced style, where the natural will not impose on the industrial. An ideal Mix and planned to the smallest detail.
An elegant duo of stone and aluminum
Perhaps the first ideal Mix for your domestic interiors is play with natural stone and aluminum. They can be chosen to condition spacious stays, of generous walls and large windows. In this way you will make sure that you will shine to the fullest in broad daylight, with the natural light that will invade the space. Maybe the master bedroom, or a diaphanous room already double height conceived for rest and leisure moments.
And where to place each one? A warm and elegant decoration it will consist in reserving the main walls to cover them with natural stone. Or just display it on a single partition, the largest one, and concentrate all the aesthetic attention on it. Our ideal Mix will take shape, as a delicate and natural skin. The aluminum can be present in the window's woodwork or the balcony of the room. Y also in small decorative details, or in the finishes of some auxiliaries and ceiling lamps or wall sconces.
Related interiors in finishes and chromatic look
When we managed to create an ideal Mix Everything fits perfectly. It will mean that we have successful not only in the combination of the chosen materials. But also in the way to play with the finishes, in discarding those that do not work until we find the one that gives us the desired final effect. A clear example of this happens when we combine another stellar decorative pair: the exposed brick and a laminate covering, or a smoothed cement.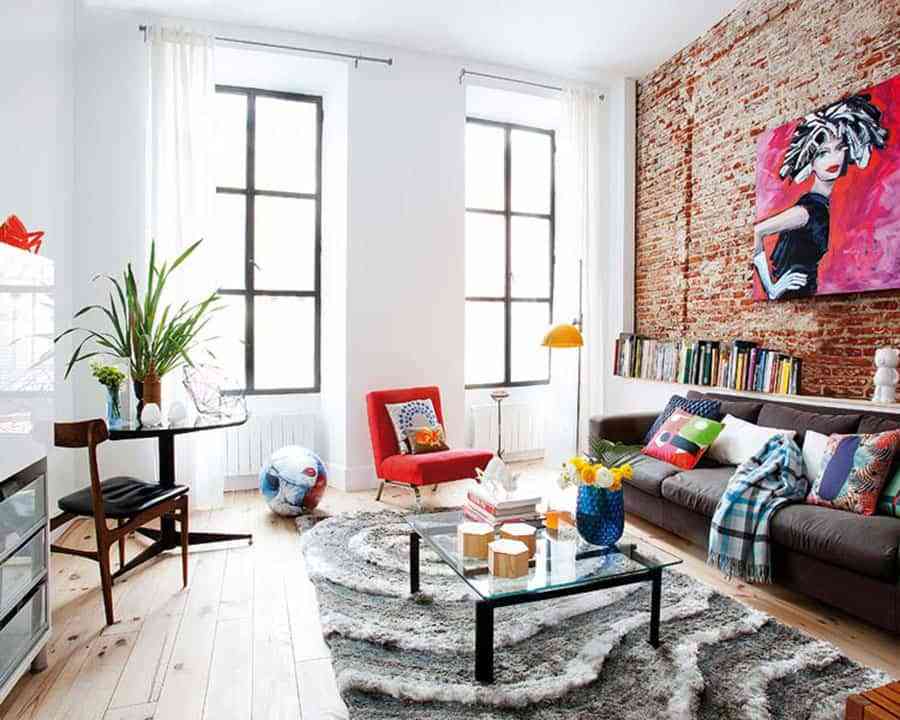 They are not a novelty but of course yes a duet brilliant, capable of giving life to modern scenarios wrapped en warmth and naturalness. They can be the candidates to renew the heart of the house, our hall. And even more so if we live in an old rehabilitated house, where the space distribution will add beauty. Vertical surfaces they are the most suitable to show a brick seen; its texture and irregular color will shine with strength if it has close a natural light source. As for example the sun rays that enter through the balconies. A laminate flooring is a luxury companion. Only two recommendations: look for a tone and opaque finish that tune well and run away from models with very marked veins. The decorative environment will be pure balance. An ideal mix of those who endure.
Wood in any version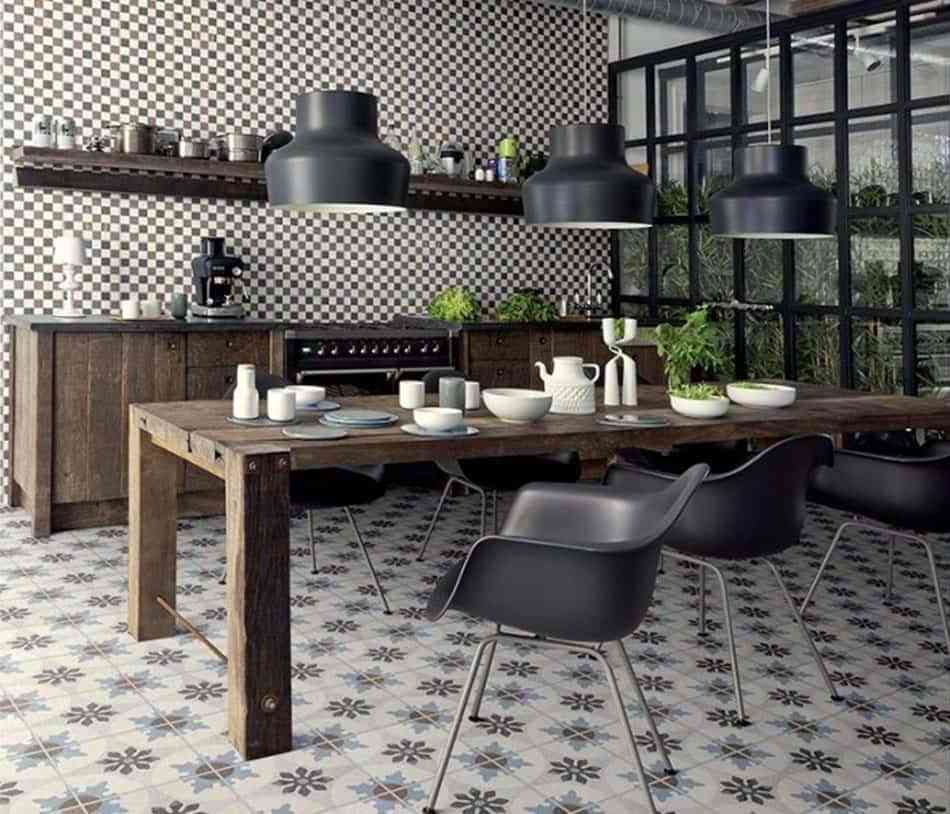 With timber as an ally any ideal Mix is ​​possible in our interiors. most of Industrial materials get along well with it in all its versions. When we think of it as a pure coating and when it is used as plywood, DM, etc. There are many couples that can fit us in the home environments. If we dare with very contemporary formulas, nothing like presenting the wood next to a porcelain tile, so industrial, and in large plates. O well bet on it beside microcement floors or acrylic stone countertops if the space chosen is the kitchen. It will be his most modern way of being present in it, showing that it can also be a suitable material for such domestic areas. This ideal mix works anywhere in the house.
And yours?