Arco Contemporari Furniture is a Dutch brand of furniture that is characterized by the originality in the creation of its furniture at the same time as its simplicity. Wood is one of the most used raw materials and that fact can be seen in the piece that we present below: the little table Pivot
It is a table with a contemporary and absolutely original design that hooks us just by looking sideways, especially if it is open. It consists of two drawers, but the opening mechanism of these is not the same as the one we are used to.
Its three pieces (for the board and the two drawers) are joined by the legs that are pivoted to open the drawers, something like a folding "fan" piece of furniture that can not be fully opened by the top of each one of the drawers.
It is a design Shay Alkalay and is made of oak, American walnut or lacquered in colors. Any of the three options is very valid since each tone of wood or lacquer will give a different touch to its simple lines at the same time as peculiar.
It can be used as a bedside table, but it can also be a perfect piece of furniture for the receiver, as many users have already thought, and also able to adapt to many styles.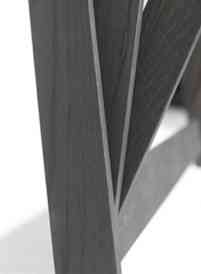 Its measurements are 100 x 63 x 82 cm.
More information: Arco
Via: decoratrix