In search of functional furniture, we denote enormously the variety of tables that we can find focused on the theme, this is due in the first place to the space requirements of modern life, and of course to the space that these pieces usually occupy and the need to expand its dimensions on festive occasions and when we see ourselves in the position of hosts.
Modern life and the limited dimensions above all of the floors, lead to the tables expand their functions and this happens with great assiduity since they practically functional tables they are from the pieces of most sold furniture.
Taking advantage of these characteristics of the spaces and of course the incredible capacity of the creators, the furniture designers current create tables that can be called fantasy, adding a remarkable addition to the piece that at first glance seems a conventional table but it hides a sophisticated arming mechanism that can surprise even the more expert carpenters.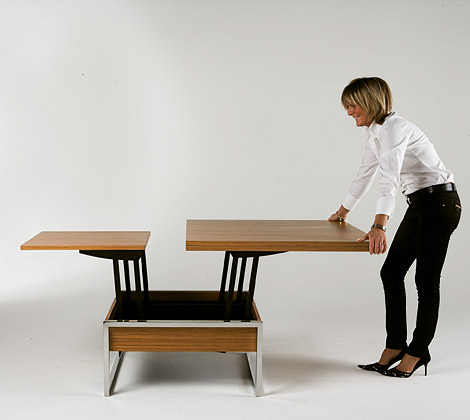 The singular thing about this trend is that it achieves develop on any type of table, we speak from those that auspician of breakfast, both with lounge tables or those arranged to receive our guests.
On the other hand we find ideas that revolutionize the concept of functionality constantly, and even in a painting you can hide a remarkable functional table, the idea is Ivy Design, and bet on the maximum optimization of space, no doubt a remarkable idea for the avant-garde young decoration.
But if you think about space optimization I noticed that not only tables occupy place but chairs, accessories indispensable for its use, that's how we see a great variety of designers achieve a fusion of high standing significantly increasing the aesthetic and decorative characteristics.