In these times when micropisos they form one more part of the options when choosing our space depending on our needs, taking into account the budget we have, even young people who access their first home.
Decorate a small space is not at all at odds with elegance, and accessible and modern design.
They are usually made of recycled materials, and make the most of their space, so that they have all the comforts.
Let's take a look at these minicocinas in metal, stainless steel and wood of between 90 cm. up to 160 cm.
Mini kitchen in white metal, the most mini, but you can also have it in wood and colors, if you like the color in your kitchen to brighten up those moments that you put your hands in the dough to cook.
Mini kitchen in stainless steel that has all the essentials, clean and resistant, do not change color and remain in perfect condition over time, with a super easy maintenance.
That you want to take advantage of that hole, or simply that the kitchen is totally camouflaged, this mini kitchen closet is ideal for this function, nobody will know where the kitchen is unless you show it to them.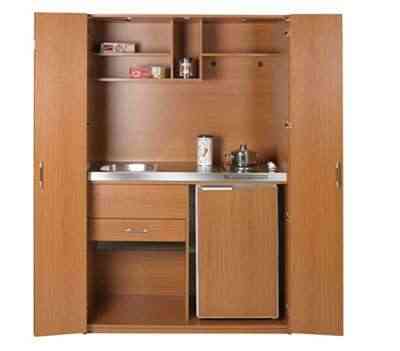 You have all kinds of accessories and taps to choose from to design your ideal kitchen.
Official site of some of the mini kitchens shown here is Limatec
Photo gallery with more mini-cabinets