In the office, the faculty, in the schoolWe need them! ... and we always lose them, but what can we do? What do I talk about? Of the tools andso small clips!
These little wires with oval points ... always bring us crazy and head because we never know where we put them; Well now this is going to end!
Today I present this original washbasin where we make sure our clips do not get lost more in no corner of the house ... I still do not know why it's a sink ... but come on if a sink of those lifelong that is!Sink Paperclip Holder!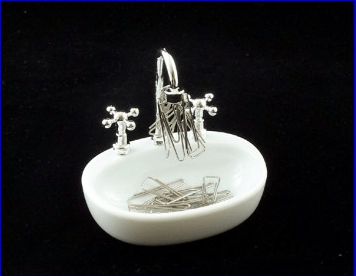 For those who spend a lot of time on the desk working there are endless functional items to decorate and customize them to our liking.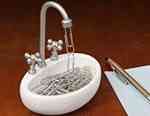 ¿You want to give character to your study area? It's whimsical, it's fun and it's functional Sink Paperclip Holder It is made of plastic and not only helps you safeguard the numerous clips of your loss ... but also your tap is magnetic, in such a way that the clips will remain "hooked to this" pretending that they fall as "chorrillo" of water. ¿It's not fantastic? ... or at least funny.
For those who have sense of humor, for those of you looking for a different gift ... Sink Paperclip Holder can be acquired on the web www.harrietcarter.com for a price of U.S. dollar 6.98.
The dimensions, in inches, of this washbasin holder clips are:
- High 4 «
- Wide 3 ¾ »
¿Your clips are never found where they should be? You do not know what to do? Use this sink and you will see what is not lost again ...!
Choose between these unique accessories! Now our desks with all the personality of the world! If you are looking for something different, functional, fun and above all to help you in the daily loss of your clips Sink Paperclip Holder It's your accessory! What are you waiting for?