We love the famous Swedish store, why deny it! Not only do we find design at popular prices, but also, many of the elements contained in this special universe awaken our creativity. Today we bring you a very original idea: transform two Ikea furniture in authentic examples of style mid-century modern, so in vogue in recent times.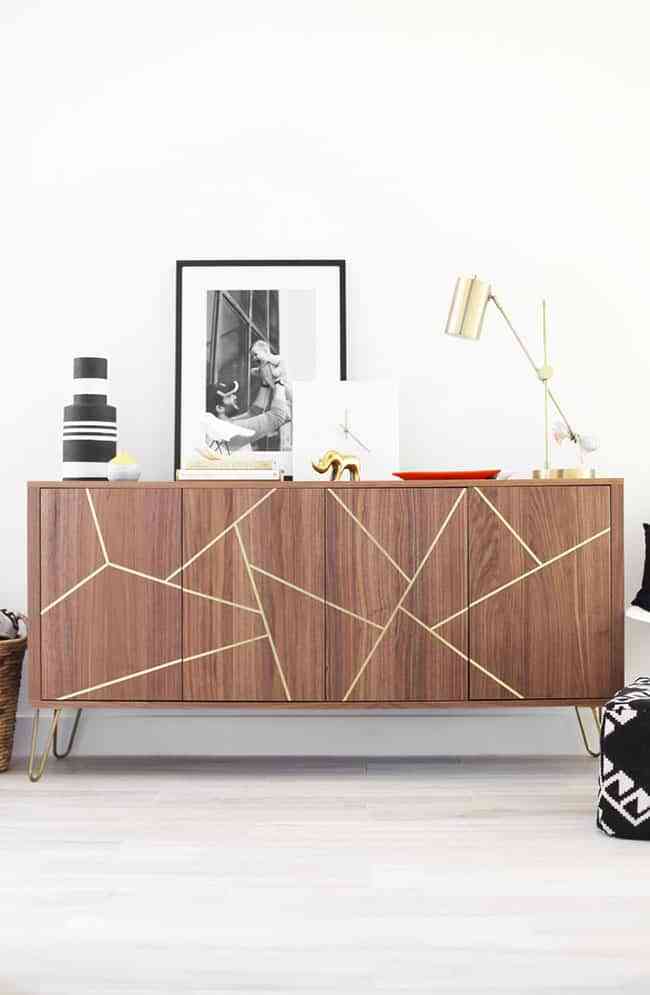 Is a dresser and a dresser that have captivated us If we already looked great before (and its price much more), after making some changes can not like us anymore. After tuning them with some elements that are very easy to find and use, they have become two design jewels: in two pieces mid-century modern that attract attention.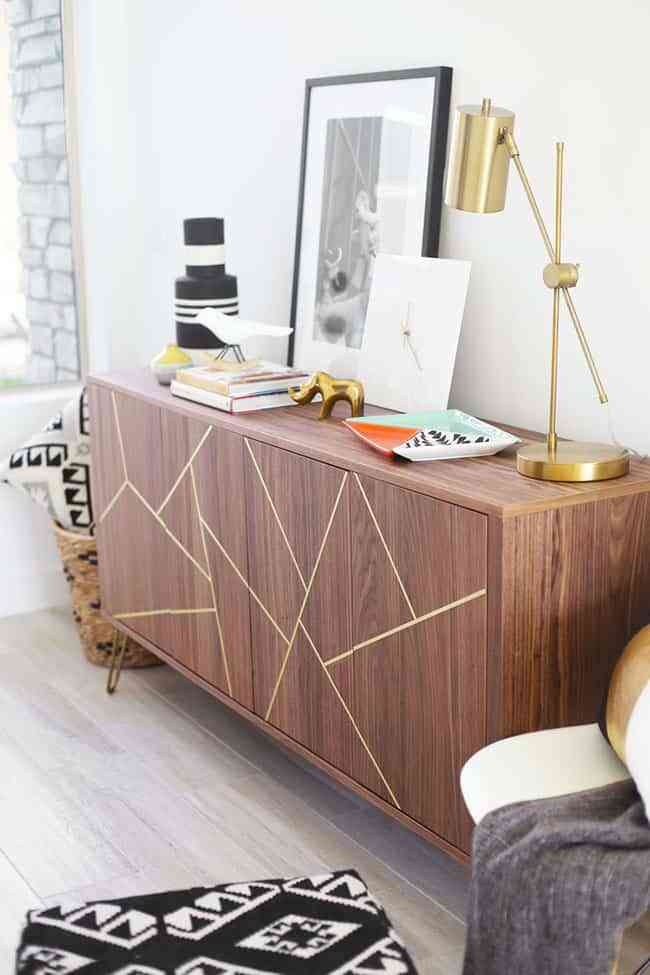 And it is not the first time that this is done. There are many objects of Ikea that have inspired the staff to turn them into something else (and improve them in most cases). We can find great ideas to customize some of the signature furniture of the firm. The results speak for themselves.
Ikea furniture that gain in personality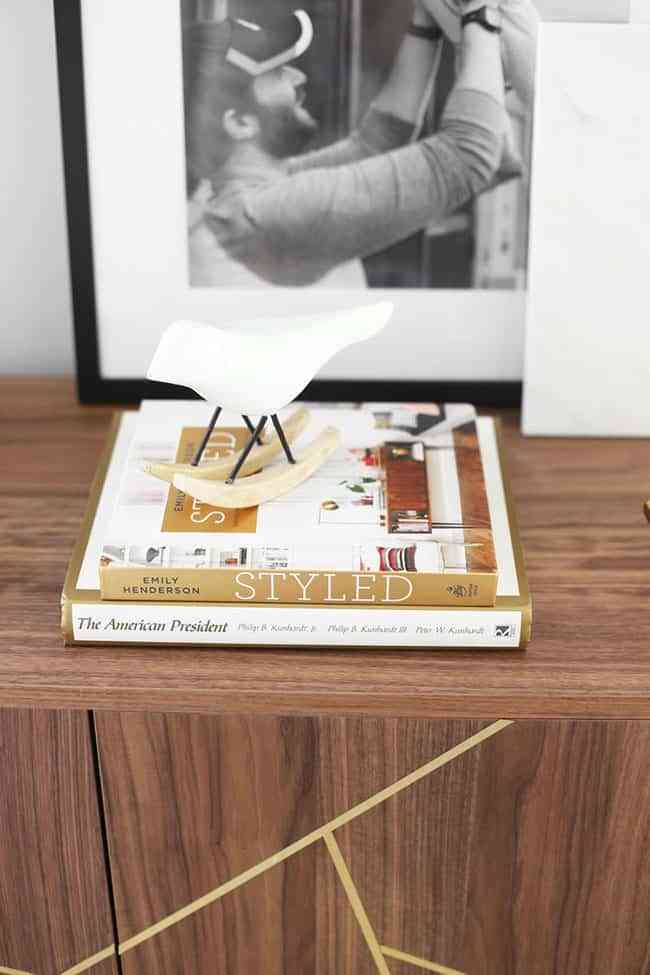 It is one of the most famous furniture stores in Europe, and it is not strange, as it offers a wide range of functional and functional elements for the home. with design and more than recommended prices.
However, we will not always find that special piece we are looking for. We can look in other stores, where we will surely have to spend a lot more money, or modify the Ikea furniture a bit so that they resemble what we want.
That is what has been done with this dresser and is comfortable. We tell you!
A stylish dresser
If you are passionate about style mid-century modern and you're looking for a special sideboard, here's a great idea: make some changes to the Stockholm dresser from Ikea to turn it into a unique piece of furniture.
The work is very simple and to put it into practice you will only need a few materials and some tools. Besides of Sideboard Stockholm (that costs 399 € in the Swedish establishment), you will have to do with some other things that I indicate to you next: 4 fork legs of gold color, screws to fix them to the piece of furniture, narrow brass strips (of 6 mm wide), narrow adhesive tape and glue to glue wood and metal.
As for the tools you will need a pair of scissors, a drill and a bit, and also a screwdriver.
From Nordic furniture to mid-century dresser
The Stockholm sideboard is one of those Ikea furniture that they transmit a certain Nordic air. It may be the finish in walnut veneer, the straight shapes or the legs. The fact is that after the customization we are going to make it look like a piece mid-century modern coming from a market in New York.
If you already have it mounted, you will have to remove the legs. Lie on the ground on its backside and it replaces its wooden legs with metal fork legs. This type of legs, the archifamosas hairpin legs, are the most current today, and appear in furniture of all types and styles, especially in the industrial design parts y mid-century modern.
To fix the legs, look for the exact point where you want to put them and mark it. Then make the drills you need and screw the legs.
Geometrically inspired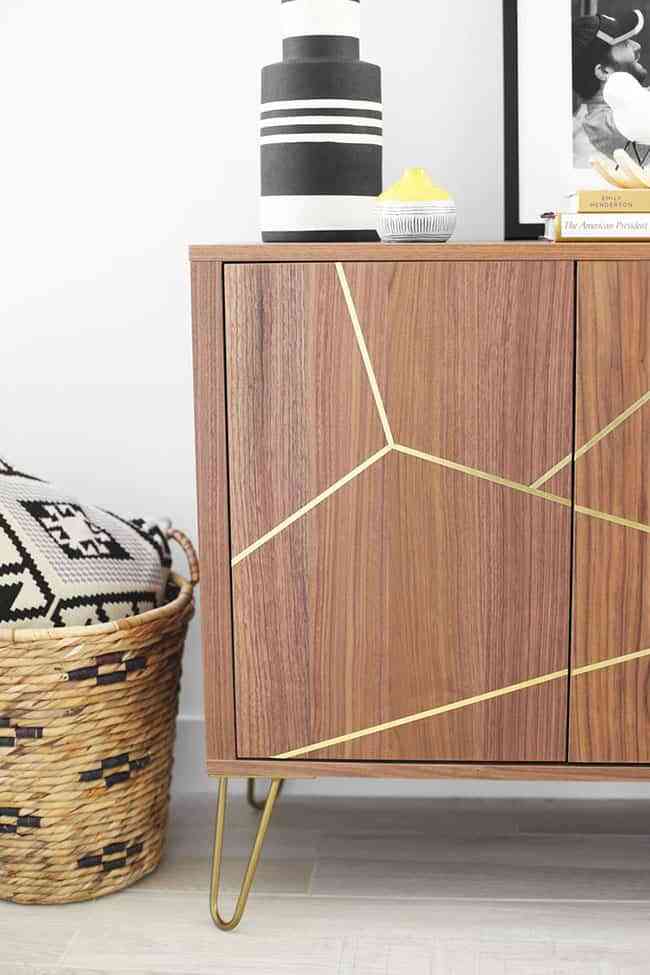 The next step is to draw on the front of the dresser the geometric design that later we will trace with the brass tape. You can use a pencil and a ruler, or go sticking narrow tape. Do it your way, with more or less lines, so that it is to your liking.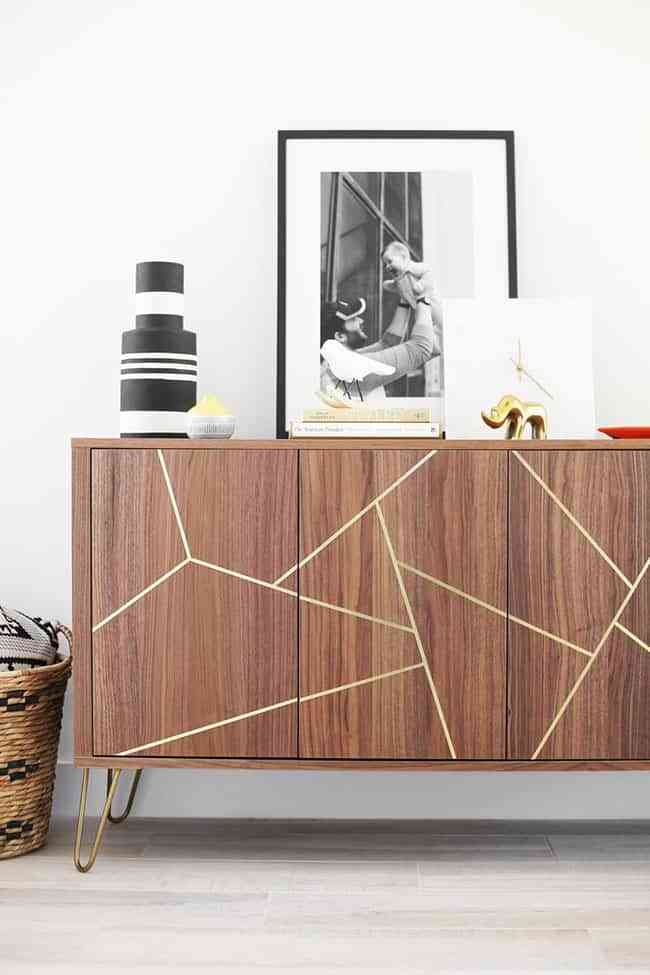 After go measuring and cutting the brass tape. Cut the strips and stick them on the furniture with the special adhesive. You can remove pieces of tape and go sticking the brass. Press firmly and clean any excess glue. It is better to leave the dresser in that position, lying on the back, a few hours until it dries completely. You already have your dresser mid-century modern.
And also for a comfortable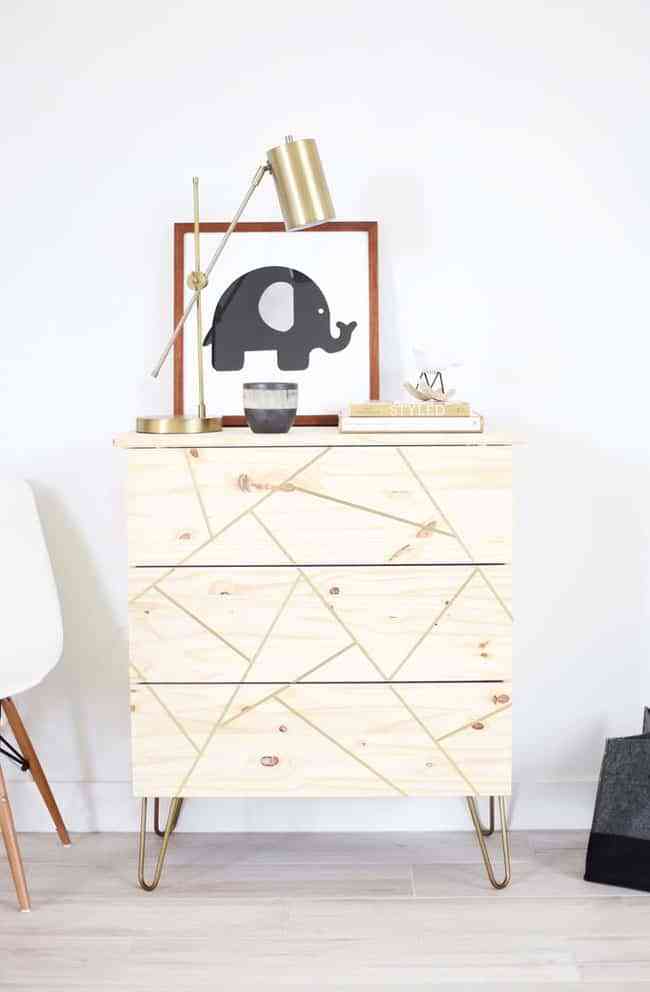 The same idea that you have used to customize your dresser will be the cinema in a dresser also from Ikea, in this case finished in pine wood. There are several models that will serve your purposes. One of them is the comfortable Ivar (which costs 89 €).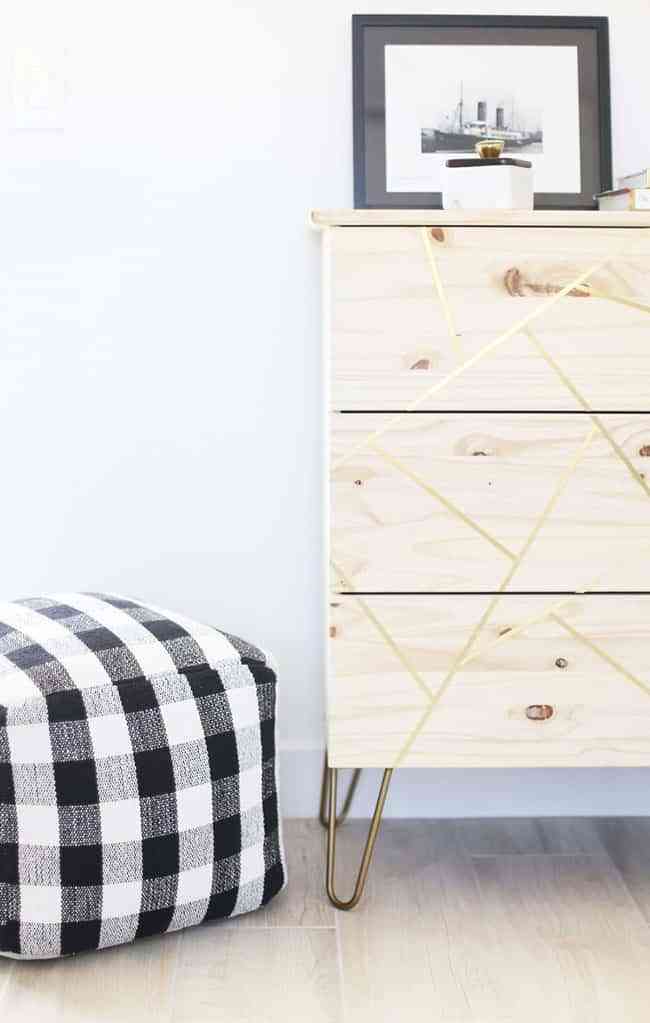 In this case It was left in its original pine wood finish, although if you prefer you can paint it before gluing the brass ribbons. In a graphite gray or black it would be a movie.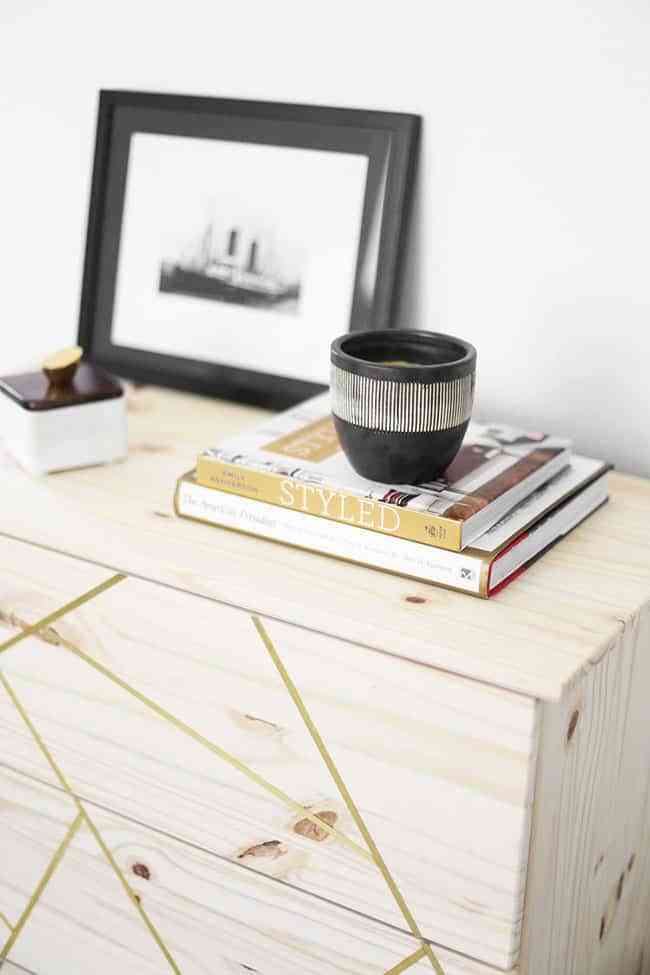 The procedure is the same with which the sideboard has been tuned. Simply fix the fork legs and stick the brass tapes according to the design you decide.
As you can see, Ikea furniture has a lot of space and almost infinite possibilities. And you, what do you think?
Photos: Kristi Murphy.