If a few days ago we talked about some radiators shaped like a puzzle, what if we complete the decoration of the children's room with a puzzle furniture.
On this occasion they are not in the form of puzzle pieces but are one in themselves, a chair, table and small shelf composed of individual pieces that must be assembled.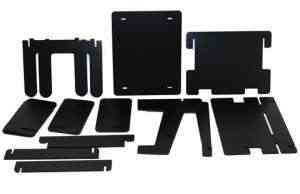 It will be very fun to do it in the company of the kids and teach them to assemble and disassemble it whenever they want, and without the need for tools. It is a creation of the company Basander Lundin, expert in creating products are style and fun for children with the intention of encouraging children to create and build their own objects.
It can also be purchased through the Internet on websites such as Kids Love Design.
More information: Basander Lundin
Vía: Decopes