I need a planter that is different, for my garden; that is done with recycled materials, to take care of the environment. My planter has to be very decorative and quite ingenious ... if this is what you want, here your dreams are fulfilled because today I would like to show you something different.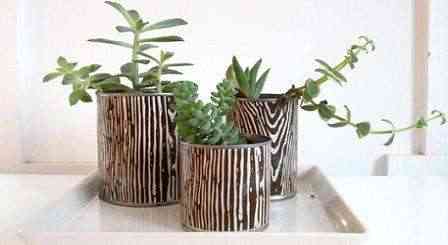 As we have seen, on other occasions, cans can be a more decorative method; Y very striking by the way. Today I would like to show you how, from simple cans, you can make wonderful and ingenious flowerpots, all for the garden.
To start we provide all the necessary cans, which will be as many as we want to put pots.
The materials to use, in addition to these recycling objects will be, painting And a little varnish.
Once provided with all the necessary material we must clean the cans well With soap and water, we do not want to leave any remains of what was in it before!
To continue we proceed to paint the tin; for this we choose the color that we like the most, we can paint it with a single tone, that is, completely smooth or on the contrary, as I personally like to give it more color and paint it in different colors, draw "little things" ... this is to taste.
Finally, once it is dry, a little bit of water is applied to the can-pot. varnish. In this way, not only the flowerpot will be brighter and shining, but we will help protect the weather agents avoiding their early deterioration.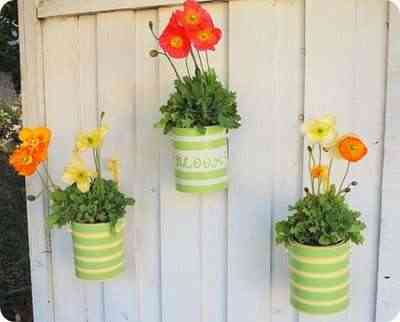 Once ready, we can plant what comes to mind; the cans can be hung on the wall, like the ones in the photo, making small holes behind them. Or they can be put on the floor, in a group; On a small garden table, or even at home, they would be pretty "cute" ... I leave this to your choice.
Recycling is very good and if we do it with much better ingenuity. If you have cans at home and you can not think of what to do with them ... This is just a different idea.