The December 16 is one of the most special days of the end of the year. I remember that when I was little that was the final day when the Christmas celebrations began for me. In the morning I met with my cousins ​​and brothers, in the house of the grandmother, and under the command of some adult unemployed and industrious, we created what for us was a true imaginary universe. The birth, which was located in Bethlehem, had as much of us and our fantasy as did not allow the cartons, cotton, figurines and wood.
The figures, of the Virgin Mary, of Joseph, of the child, the wise men, the ox, the cow, the shepherds, are engraved in our mind as icons of kindness, respect, and tradition. Having a beautiful manger, lasting and representative is important for the whole family.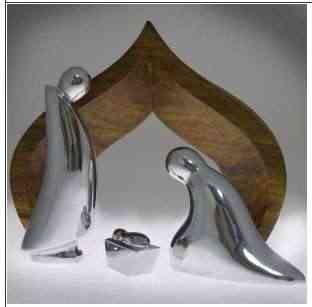 Simple and emotional at the same time, the nativity NATIVITY, designed by TODD WEBER for the NAMBE, represents Mary kneeling by the side of the child, Joseph standing watching him, and the child resting in a rustic crib. It is made of metal alloy and polished with sand, which gives it that beautiful appearance. The sacred family is positioned under a beautiful cavern made of veneered wood, measuring 10 inches by 8,5. This piece easily becomes a family treasure and year after year can acquire more meaning and greater value for all Christmas lovers.
More information on the Website www.nambe.com