It's coming! It's coming! ... In a few months, Valentine arrives, do you know what you are going to give to your partner? I still do not know, but here I leave you a great idea to decorate the home, with all your love, to the person who shares "those" special moments of life; the person who is by your side no matter what happens.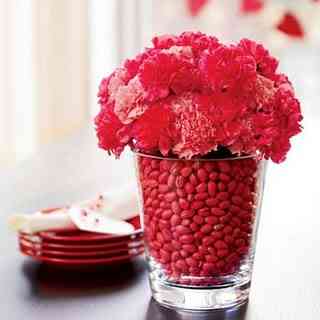 For those of us who have found love, here we have one more option to decorate our table on these dates and enjoy the senses and feelings. To carry out this craft, it will be necessary to have the following:
- A glass container
-Red seeds (can also be stones)
- A florist's sponge
- Dried flowers
The first step is to pick up the dried flowers and cut the stems; in this way they will fit perfectly into the container that we have chosen. We can choose the flowers that we like the most.
Second, we will take the sponge and place it inside the glass container. Then we will put the seeds around the sponge, without it being seen through the glass. The upper part will be left uncovered.
Now we will nail the dried flowers forming a bouquet. And finally, cover the entire surface of the sponge and the entire base of the flowers with more seeds or otherwise stones.
As you can see is a very simple craft to decorate your table on Valentine's Day.