If you are looking for a candlestick that meets much more than the simple function of illuminating, get to know the new Foscarini collection.
The Italian lighting brand presents in its recent range of proposals a line of candlesticks that manages to awaken the most different emotions, creating environments of light, where refinement and sophistication give the nickname to a decoration that tends to be more personalized each time.
Depending on the type of lamp or filter used in each model, we can take advantage of a completely differentiated ambient light.
Here we show you the models of the Foscarini collection where this happens.
Tropic
Inspired by the parallel lines that divide the planet, this model was designed by Giulio Iachetti, exploring the modular concept associated with the entire new collection of the brand. This factor allows different versions of the same model to be born from these small thermoplastic resin strips, which vary according to the shape that each lamp surrounds.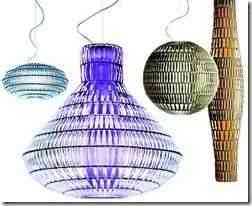 The final result is a candlestick with a very attractive sculptural and geometric image.
They are common characteristics to all the versions; Bell, Eclipse, Vertical, or Sphere. Giulio Iachetti is an industrial designer and, among other international awards, he collects in his career the Compas D'Or conquered with the workshop "Moscardino", created in conjunction with Matteo Ragni and that today is a permanent piece of exhibition at the MOMA, the Art Museum Contemporary in New York.
Among other brands, Giulio Iachetti created projects for Bialetti, Casamania, Guzzimi, Mandarina Duck, Meritalia, Sambonet and Thonet Vienna.
Empire
This transparent ash-colored floor candlestick model is a new version of the previous model also designed by Luca Nichetto.
This proposal creates a smaller visual impact, allowing it to fit into any type of environment, without losing the distinction that characterized the previous color versions.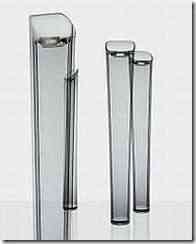 Working with a halogen lamp, much more economical and long lasting, the design of this proposal belonging to the latest Foscarini collection, was inspired by the design of a cylindrical base with the top cut under an oblique shape.
Luca Nichetto used the methacrylate to realize this creation: a candlestick with a clearly geometric shape, very elegant.
By far, this designer began his career designing creations in Murano for the company Salviati, one of the most renowned brands of manufacture and design of this type of crystal. In addition to this association that maintains, today works for brands such as Moroso, Kristaliana and Italesse or Casamania by Frezza and has signed several works in conjunction with the designer Máximo Gardone.
Gold Caboche
The new version of this creation by Patricia Urquiola and Elain Gerotto was dressed in gold, evoking new emotions from a candlelight already very applauded, capable of creating the most varied effects of light through its transparent spheres, now in gold tones.
In all its versions: foot, table, suspension, wall, or floor, here is born the new Caboche to be appreciated by those who value an elegant and refined design that already characterized the previous version.
This step forward in the model by Patricia Urquiola represents an enhanced shine to the chandelier that was already known, making "hotter" the environment where we placed this caboche, conferred by the golden tone of the spheres that compose it.
All models work with halogen lamps.