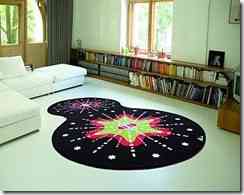 The rugs are no longer those old-fashioned pieces that simply took care of our floors from the deterioration produced by dirty shoes, or they were a mere highlight of an ornamental set of pieces that made an extremely lavish decoration, to become dynamic and modern pieces applicable to all spaces of great character and sophistication.
Differential element of the spaces, the rugs are without place to the least doubt fertile territory for the creativity of the artists of the design.
They have undergone innumerable transformations by creative geniuses who find in this piece a brilliant and creative way to develop their talent adapting it to spaces or adapting the spaces for their prominence.
The examples are obvious when we see the creations of the design companies as Nani, Marquina, Rukshtul, Mold or Jab.
The development of the technological industry has managed to confine to these accessories a new morphology totally unthinkable in previous epochs, we find pieces cut to the detail with new and daring forms that added to the booming growth of the textile industry find new and novel textures.
Elegant, practical, modern and provocative mats are inserted into the designs affirming the trend suggested by the rest of the shapes and colors, as a flour can highlight the most important parts of a text.
New forms, functionalities and styles are the essential condiments for this new way of conceptualizing the rugs that will surely bring new ways of implementing them.
Some designed with specific functions within our decoration, many meet the condition of being characterized by being able to be implemented in places as different as our bedroom or bathroom without noticing sharp changes in the aesthetics of the rooms.
True to their marked avant-garde style they do not go unnoticed in a beautiful room interacting with the other accessories in a lively and dynamic way becoming true VIP occupants of our house.
Wood ceramics and even marble can not resist its charm, the same that leads to this renewed and finely transgressive accessory to occupy a place of preference among the avant-garde implements for which designers tend to lean.