Between post and post about Christmas decoration more in for the house, this theme is dedicated to many daily objects that accompany us daily. Although it seems incredible, star in a beautiful world in miniature of scenes full of creativity and subtlety. Such are the photographs of the Japanese artist Tatsuya Tanaka, compiled in a calendar that is almost a work of art. I invite you to discover them.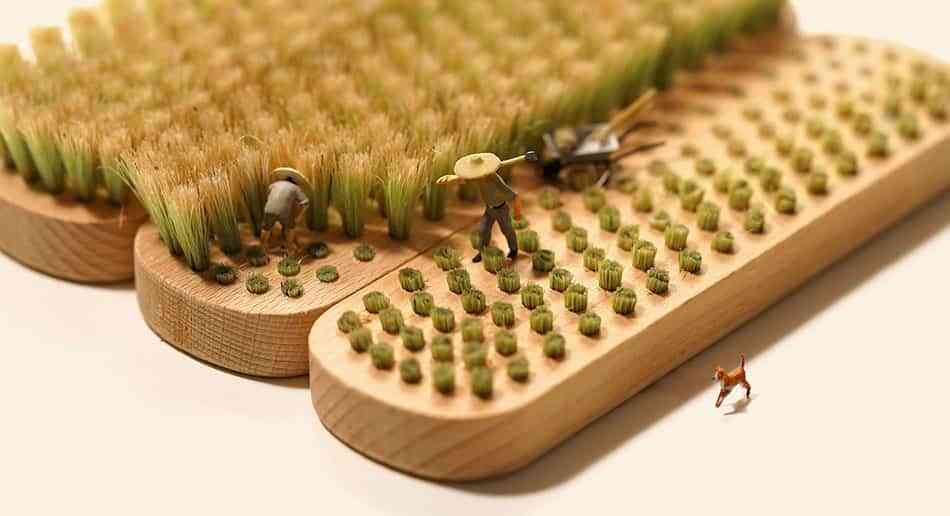 From the hand of Tatsuya Tanaka everyday objects they acquire a new dimension. That is the truth without more but it is also to be short in comments. The aesthetic beauty and originality that is capable of generating around them is only understood once we have before our eyes their miniature scenes. A reality transformed into dioramas They show that their imagination does not seem to end.
From everyday objects to dioramas with magic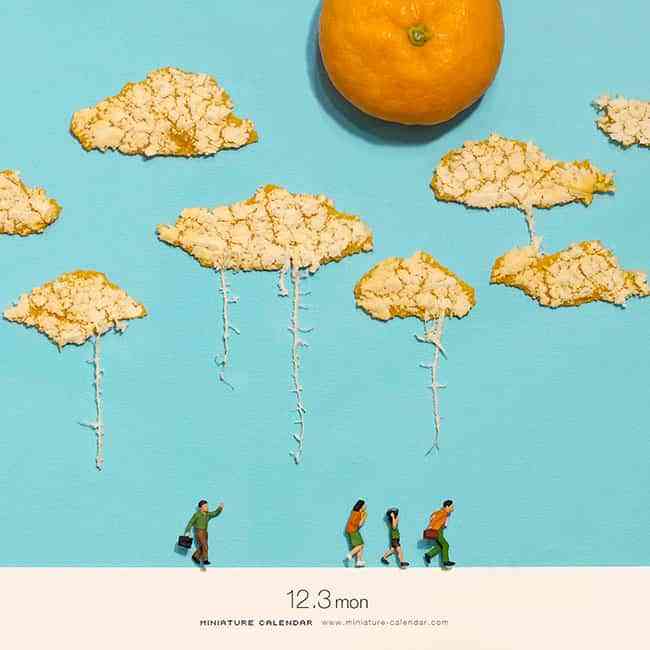 The everyday objects of this Japanese artist, what exactly are they, what do we mean? I know, it's hard to imagine that the absolute protagonists of his scenes are broccoli trunks, tangerines or some pasta glasses that we no longer wear Not to say impossible. Tatsuya's gift is to reinvent the use of such everyday objects and create a wonderful universe in miniature that leaves with an open mouth.
Scenes and moments collected from life itself and that it is easy to recognize when contemplating them. We will be amazed by such precision and warmth in the final result. Sometimes they are landscapes between dunes, other times sports snapshots or actions developed in modern cities, like people visiting a museum.
The final result is mockups fantastic captured by your camera and Inspired by the art of diorama. At the end of the day this is a kind of model and is characterized by a very well orchestrated composition of figures that recreate situations of life with surprising realism. From human pieces to vehicles, buildings, animals and sometimes imaginary beings.
The fact of having photographed and collected these everyday objects in a calendar makes them perfect jobs to look in our environments domestic. As if they were small decorative treasures. Alone or forming a thematic composition through several images, they can give a great interest to a wall. Another option is not to lose your discreet vocation and exhibit them as if they were plates framed, on a chest of drawers. Or as a visual detail in the desk vintage that we just released for our work corner.
The project Miniature Calendar
Everyday objects can make us dream if they reinvent themselves in the way that the architect of this project does. Discover a whole world of ideal dreaming to fill the domestic interiors of other Perceptions, sensual and imaginative in equal parts. They will help us shape that decoration with its own voice that every time we crave more.
The project Miniature Calendar was born about seven years ago, when Tatsuya Tanaka decided to make, day after day, a photograph of these models. Pure virtuosity of miniature art. Always with everyday objects as protagonists and as the guiding thread of their small-scale narrations. The talent of his works caused a sensation and since then the Japanese artist has not stopped throwing portraits where they continue giving meaning to everything. Sometimes there are surprises and they are presented accompanied by such famous characters as Mario Bros.
From books to collections of postcards with your favorite scenes. Needless to say, this art director also devastates the networks and is object of interest in some museums, hence the exhibitions that have already made his work known.
As collector's pieces
Think like Tatsuya Tanaka means give an artistic vision to those foods and everyday objects that accompany us in so many moments of our domestic life. Believe in its aesthetic and poetic power, just as it happens to him when he gives them a new dimension. This is how this creative metamorphosis begins. That is when a bunch of broccoli can be the crown of a tree, or a leafy forest full of charm. And a set of pencils is able to get to compose a skyscraper or a mini cathedral.
Everything is possible when Tatsuya proposes it to him, making each detail the main attraction of these sequences. In them fruits, vegetables and everyday objects like staples, combs and ice cream are much more than that. The final touch comes with his photographic ingenuity and the advertising treatment he knows how to give to each of these snapshots. Simply masterful. Then it's just a matter of thinking where to place these images of Invented scenes that hook. If we get some, we will not tire of looking at them. Maybe in the dining room from the kitchen or as pieces of collection in the living room showcase.
Exciting visions
If there is something that these everyday objects achieve, it is generate magic, joy, cordiality ... Its creator has given life to a world miniature that hypnotizes and that has a place in our favorite places. Once discovered, we want to continue seeing more and more. That is why the number of his dioramas for this calendar does not stop growing, so we are in luck. We can peek at him and discover that an ice cream has turned into a ski slope, the covers of a notebook are a very Miami pool, etc.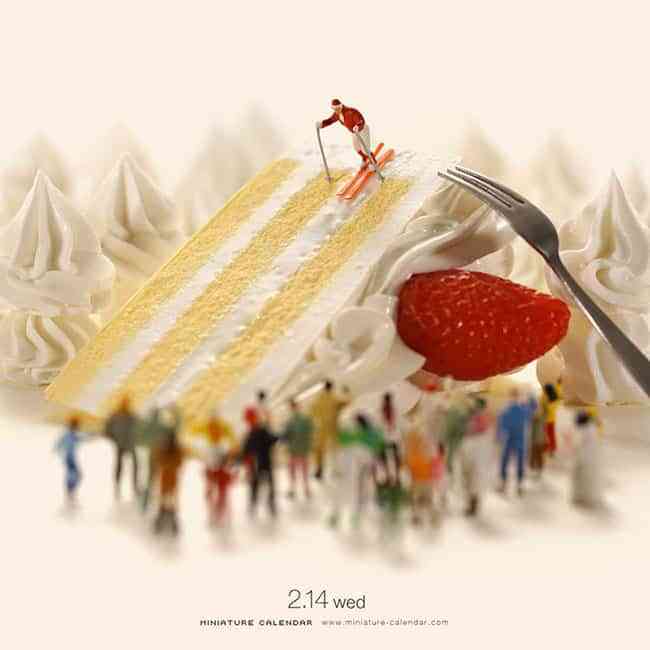 Next to these everyday objects attentive also to the characters of model that sometimes star scenes. Sometimes workers of a factory, other citizens of any corner of the world about to take a train. And even office workers and couples dancing radiant with happiness. Many of us would love to make a space at home to these mini world sequences for our particular contemplation.
You too?
Photos: miniature-calendar: http://miniature-calendar.com/