Until now I had seen many types of bathroom and many models in which the bathrooms were hidden or occupying minimal space, but what I had not seen is a bathroom hidden in the wall of a room.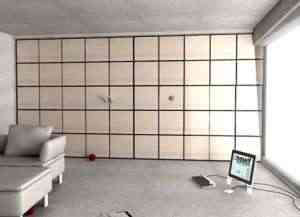 His name is Oneself and his ideologist has been the designer Paul and is designed for those who live alone. Obviously there are things that can not be done in front of anyone and if there are smells left only for you. The design incorporates everything necessary such as washbasin, shower, toilet and closet. When it is closed, the only thing that makes us think that something is wrong is the taps that stick out of the wall and the inhodoro button. In this way only what is necessary will be taken out at all times.
The idea seems perfect for space saving but I wonder what happens when visitors come? They can not go to the toilet because privacy would be nil. It occurs to me to put a screen in front of the cup, but it would still be a violent situation.
Vía: Yanko Design