As I always say, the secret lies in order and organization ... and more in small houses.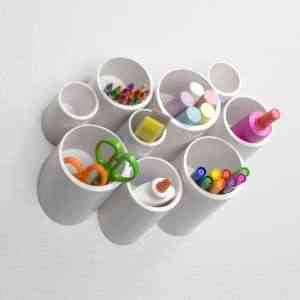 Today in Decoration 2.0 we bring you a great craftsmanship to keep our place of study and work well ordered. Decorate with simple PVC rolls ...
The materials what we will need, will be:
- White or other colored PVC tubes, cut in different sizes but deep. We can also use them cardboard.
- Instant glue.
This activity is perfect for decorating decorated walls and, in addition, will ensure a clean and organized area. We can locate it in the study and work area.
The first step is paint the tubes of the color we want. In this case they are white plastic, just the same color as the wall.
It is not necessary that the tubes have the same dimensions and length. Estimate the composition you want to make and once finished, Adhere the tubes to your wall using an appropriate glue. If you want, you can mark with a pencil the exact place for each tube.
Last we will place all the pens, pencils and other utensils, in each department.