Today Decoration 2.0 we would like to share with you a simple idea to store, organize or recycle books in a very curious way.
A very original option to organize some books or simply as decoration is to make these beautiful shelves that can be used to locate any object such as lamps, picture frames or plants.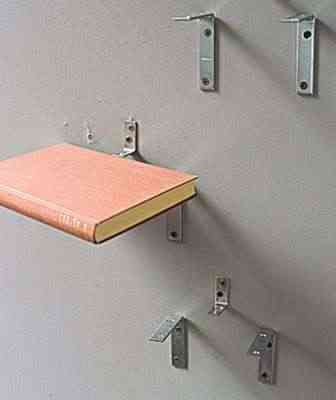 The materials What we will need are the following:
Old hardcover books

Nails and screws

Corner, (metal rods in the shape of "L", as they are called where you live) two large and one small per book
To begin we will measure the length of the book and this measure we take to place the two largest corners. These, the corners, we put them in the lower area of ​​the book.
The book or books will be placed on top of the corner pieces. These will nail them to the wall making the appropriate measures regarding the composition we want to make.
Place the book on the corners already nailed to the wall and then calculate the height of the third corner that will go under the top cover of the book and in the middle of the top of the book.
Finally, after claver the third corner, we will repeat the steps with all the books we want to place until we get all the shelves we need.