In today's article we will talk about how to make some great and original coasters. What is special about them is making them with a trunk shape, as if they were trees.
The materials what we will use will be:
Felt fabric in 3 colors (dark brown, light brown and tan)

Glue for fabric

Scissors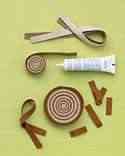 First we cut the strips, of each color of felt, in about 40 cm long and 2,5 cm wide. We will make 14 strips in tan color, 12 in light brown and 5 in dark brown. By making these quantities we will make coasters of 14 cm in diameter.
We will make sure that each color is perfectly even! Now we start with the tan color strip, add cloth glue on one of the ends and start to roll the felt. Fit them on yourself by pressing firmly so that it sticks well. Roll and apply glue from time to time so that the strip is compact and well rolled. We will have to roll up to get a width of 1,3 cm. Thus we will preserve the appearance of trunk.
Cut out the remainder of the felt and start with the light brown color. Add glue on the end and start rolling tightly. Take a couple of turns around the contour and cut the rest.
Then we continue rolling the felt strips in a circle and see alternating both colors each 2 or 4 turns and 1 or 2 for the light brown ones. Continue until you get a measurement between 13 and 18 cm in diameter .... and ready, ideal to decorate any table in your home.
Wrap the piece with 2 or 3 strips of dark brown felt around the diameter, applying glue as you go.