Do you often think that your house needs a change of scenery? If you want to give an original and different touch but you are not willing to mount the monumental or make a significant outlay of money, I'll reveal a few tricks that you can use to get a different and original look, betting just by painting the walls in an original way
You will see how, without any further modification, your house will experience a surprising change. That fun, carefree and original home with which you have always dreamed, only a few liters of paint away. Discover how to paint walls in an original way!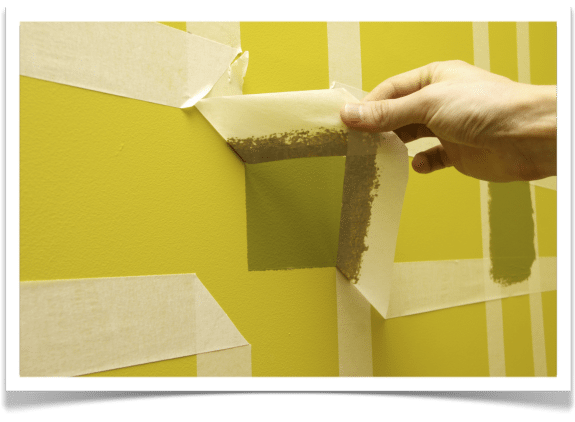 I think that all of us, at some point in our lives, have felt the imperative need to unleash imagination and express a funny madness full of color on some of the walls of our humble abode. Moments in which you would pay to return to the innocent childhood of colorful rock and abstract paintings in any wall of the house that was put to shot :)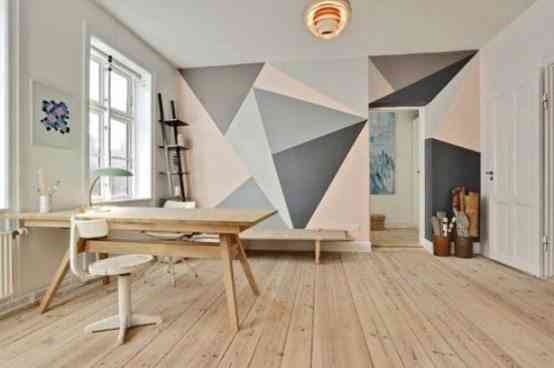 So today, we leave behind monochromatic rooms with linear tones and little character, and we give the welcome to shapes, color and personality. Do not lose detail because I will expose a few ideas as original as simple that will completely change the image of the room in which you are encouraged to carry them out.
Play with several horizontal lines
Clear example of what you can give the horizontal lines is the image that I show you below. In this case, they have chosen earthy tones that enhance warmth and comfort, at the same time that they give rise to a unified environment for being colors present in other rooms of the house.
Do you see it too risky?
If you want to make a difference but using a single color for the horizontal strip, bet on incorporating small details. Paint a perimetral skirting with a striking color It will get the monotony out of the room, but I encourage you to go one step further and at the same time paint the color you are using whatever you find along the wall. Look at the image In this case, the socket is not interrupted by reaching the door. On the contrary, the obstacle is used to bring character and personality to the environment we are painting.
Another original proposal, using horizontal stripes of only one color, would emerge from Elevate the conventional base. Using a bright color, the originality will be served, although if you are afraid of getting tired soon or the room itself is not too wide, choose preferably soft or pastel tones that will bring personality without visually burdening the environment.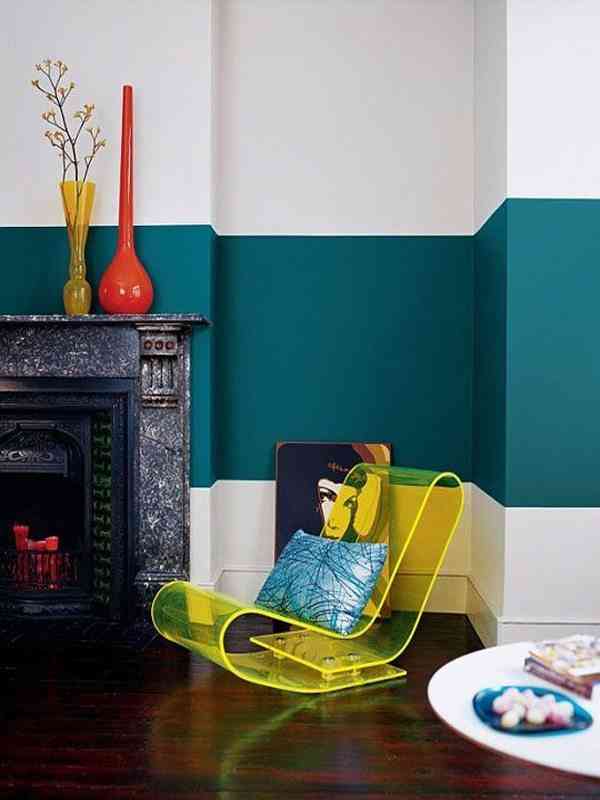 Incorporates geometric shapes
If you prefer more to apply color in a timely manner, the geometric patterns They are clear trend currently. Mark a few little triangles with a bodybuilder's tape and get to work! Depending on the serenity you need in the environment in question, use bright colors or soft tones. In one way or another, using this technique you will have assured success.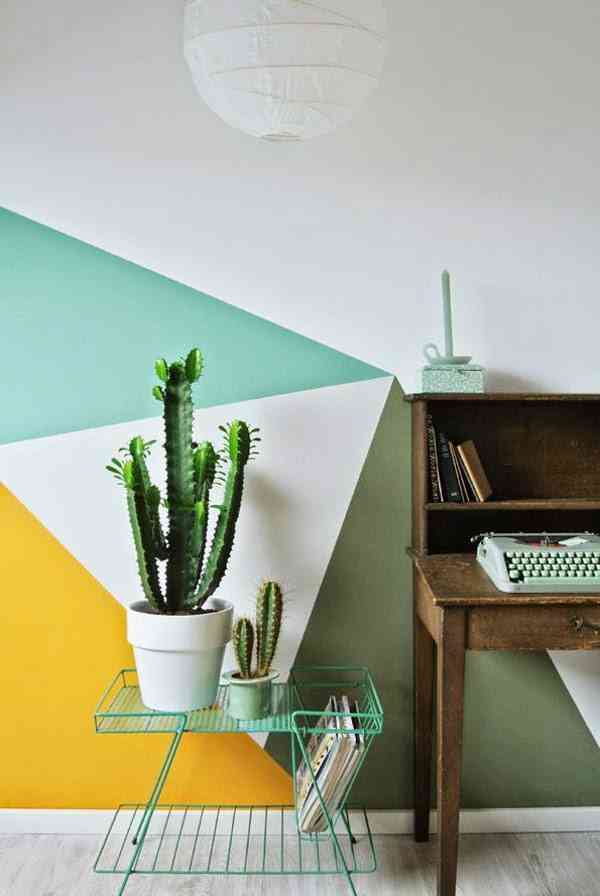 Frame your favorite decoration
Let's say it would be another way of using geometric figures, but in this case not with the intention of decorating by themselves, if not highlight decorative elements acting as an "expository frame" so that our favorite decoration acquires greater prominence.
Painting walls in an original way like this can be a success. From a small rectangle, to give greater prominence to a painting, to geometric figures of greater dimension in which to lodge several elements as is the case that we contemplate in the lower image.
Strategic "chorretón" technique
If we have to highlight one advantage of this technique, it is that we do not have to be very careful to carry it out. Choose colors that contrast between them and paint the highest part of the wall with the brush full of paint. Purpose, let the chorretones run along the wall. It is clear that it is not a technique suitable for all tastes but original is a while.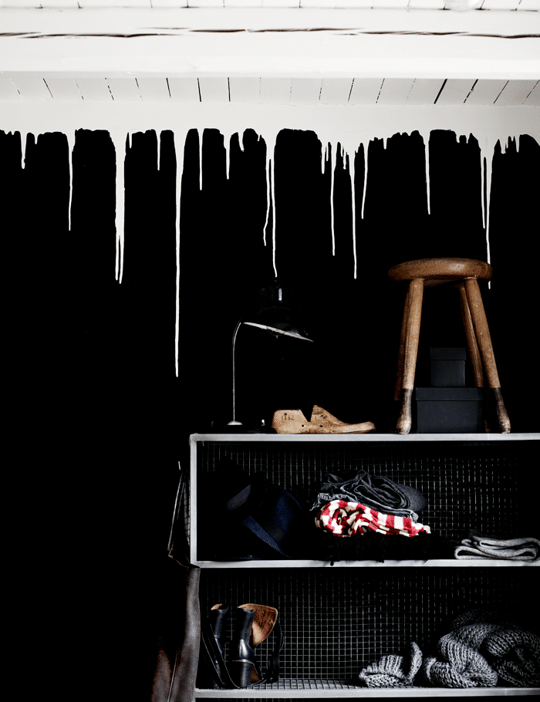 Delimits areas by painting walls in an original way
Another way to provide personality and originality using only paint is to delimit areas in the same room. Painting walls in an original way can be a success. Observe the image because it speaks for itself. In this case, a corner of this Children's room to the playground with just delimit it on the wall through a polygon of different color and great contrast to the predominant in the room.
Incorporates fringes delimited by vertical lines
The room we see is visually divided by the use of two colors. Keep in mind that the tones that you decide to use will always be in perfect harmony with the rest of the environment if you want to achieve a unified stay.
In the most extreme case, split the floor to ceiling stay It may be the riskiest option if it is a room that you use daily. As for more moderate possibilities, you can split a wall, delimit a specific area (a shelf, the headboard area of ​​the bed ...) or use softer colors to carry out the practice.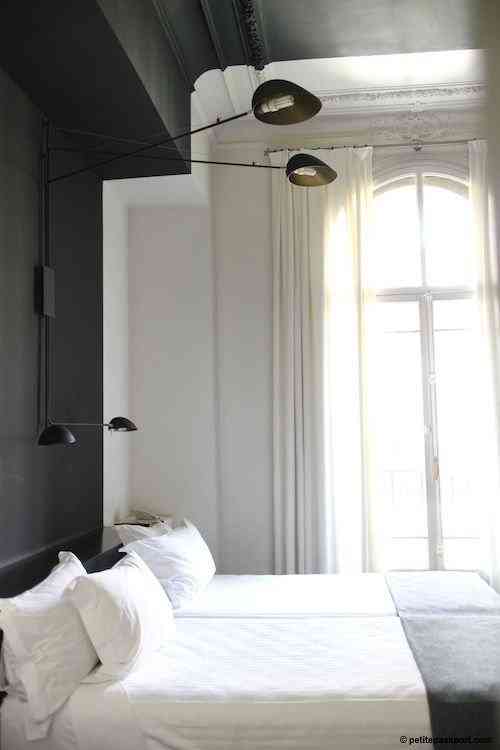 Which of these techniques would you carry out in your home? Share with us if you have put into practice any other! Do you dare to paint walls in an original way in your home?